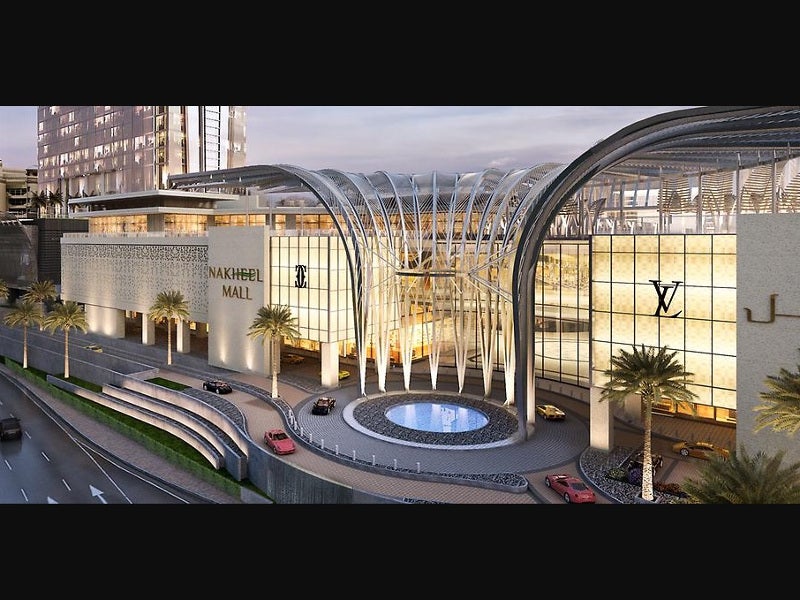 Nakheel mall was built over a 4.5 million ft² area. Credit: RSP Architects Planners & Engineers.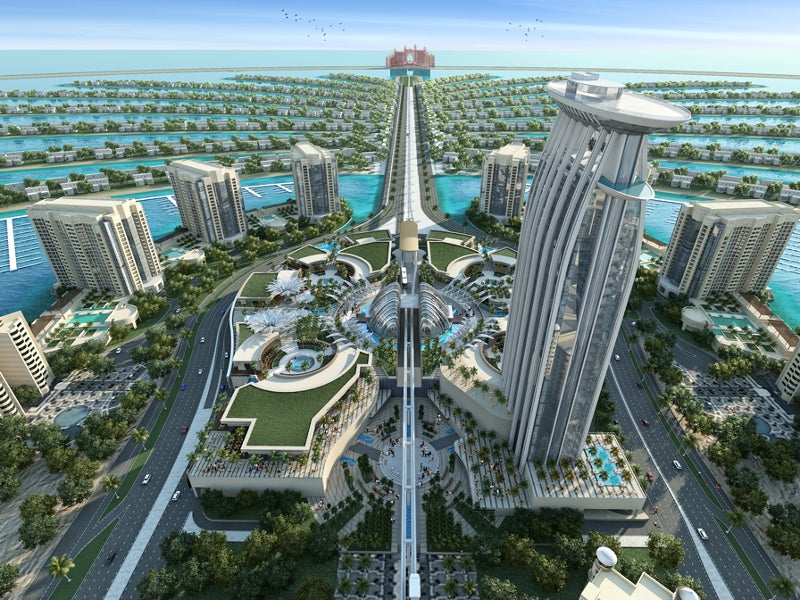 The mall features a 25m-high crystal dome. Credit: Nakheel PJSC.
The five-storey mall has 350 retail shops. Credit: Nakheel PJSC.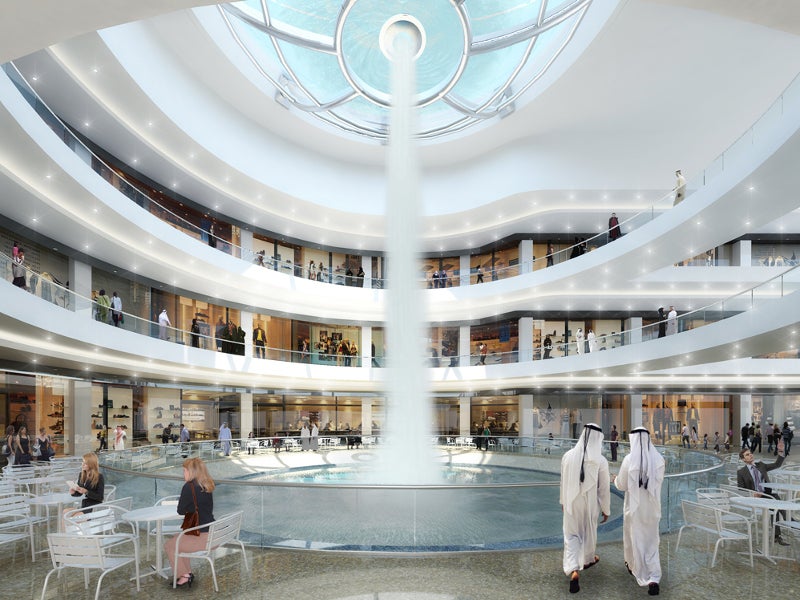 The Nakheel mall was inaugurated in November 2019. Credit: Nakheel PJSC.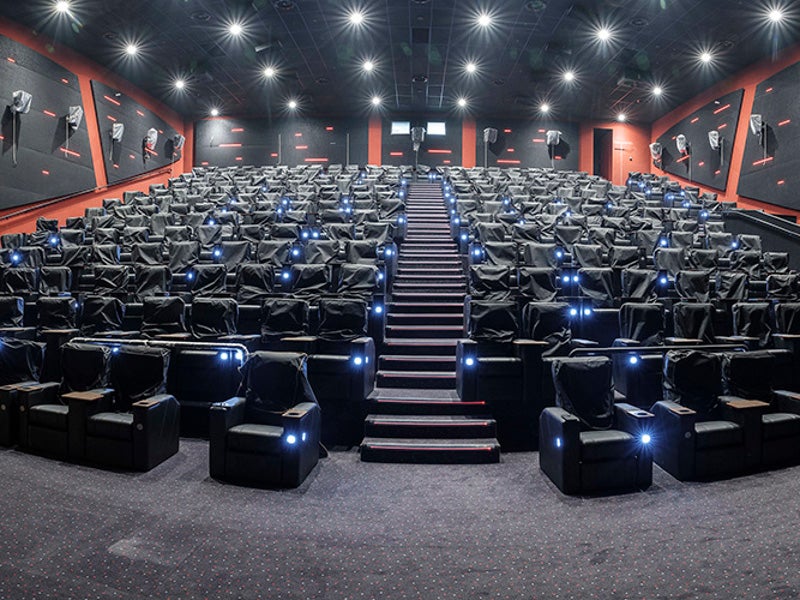 The luxury mall features a VOX Cinemas complex with 14 screens. Credit: Havelock One Interiors.
Nakheel invested AED1.2bn ($326.6m) in the construction of the mall. Credit: Nakheel PJSC.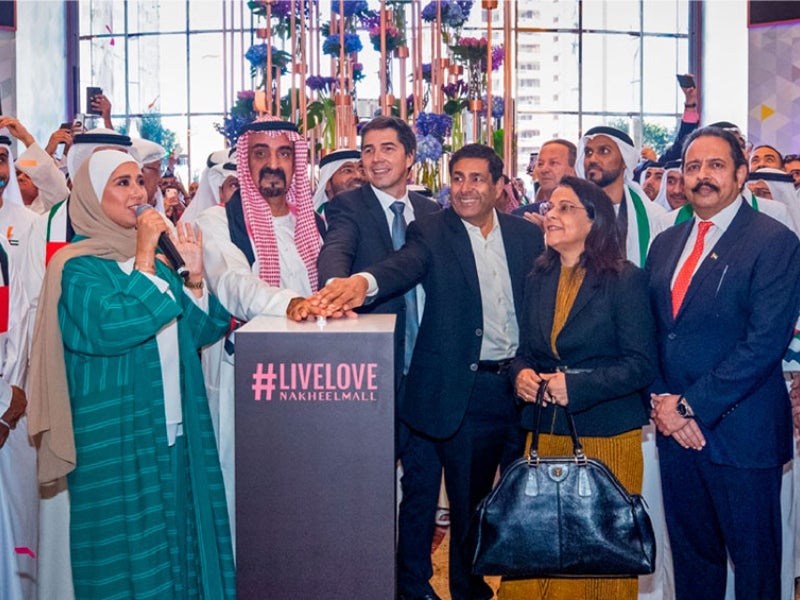 Nakheel Mall features the AURA SkyPool Lounge, one of the world's highest 360-degree pools. Credit: Nakheel PJSC.
Nakheel Mall is a retail and entertainment destination developed by Dubai-based property developer Nakheel in the world-famous Palm Jumeirah in Dubai, UAE.
Built with an investment of AED1.2bn ($326.6m), the project is part of Nakheel's AED16bn ($4.35bn) expansion, aimed at increasing its total retail space to more than 158ha.
Construction of the mall commenced in 2014 and it was inaugurated in November 2019.
Nakheel Mall location
Nakheel Mall is situated in the centre of Palm Jumeirah, which is the world's biggest man-made island.
Being built beside The Palm Tower, the mall can be accessed through The Palm Monorail. It is also easily accessible from the rest of Dubai through the Dubai Tram and Dubai Metro.
Palm Jumeirah consists of residential properties, retail stores, leisure facilities, and more than 23 luxury hotels and resorts. It provides accommodation for more than 30,000 people.
Nakheel Mall design and features
Nakheel Mall is a five-storey building with 350 shops, restaurants, and leisure attractions. It has a built-up area of 4.5 million ft² (4,18,063m²), of which 1.2 million ft² (1,11,483m²) has been leased.
The mall was developed around four key elements, namely sociability, activity, access, and comfort.
The colour scheme for most of the interiors is white, along with minor theme variations that offer uniqueness to certain important areas. The central attraction of the mall is a 25m (82ft)-high crystal dome.
The mall features two fountains and two waterfalls, which pour from a height of 65ft (19.8m). It offers direct access to The Palm Tower, which is a 52-storey five-star hotel and residential building that is 240m (787ft)-high.
Public plazas, interior spaces, and the exterior are well connected to enhance the visitor's experience. Some of the retailers in the mall include Waitrose, VOX Cinemas, Adidas, Breitling, adL, Adventure HQ, Giulio Twist, Daiso Japan, Foot Locker, Medicina Pharmacy, Marks & Spencer, Pure Gold, French Connection, ACE, Al Jaber Optical, Casiani Luxury Furs, Elli Junior, and Montblanc.
The luxury mall also includes three-level underground parking with 4,000 bays. It has a separate entrance for VIPs.
Entertainment and dining facilities at Nakheel Mall
Nakheel Mall features a two-storey VOX Cinemas complex, which is spread over 60,000ft² (5,574m²). The cinema complex has 14 screens with a total seating capacity for 923 people and 26 seats for people with limited mobility.
Other entertainment options at the mall include Trampo Extreme, Fabyland, and the AURA SkyPool Lounge, which is one of the world's highest 360-degree pools offering stunning views of the Dubai skyline.
A fine dining plaza is available at the rooftop, which provides a panoramic view of the island, the Arabian Gulf, and the Dubai skyline. The basement floor of the food hall features outlets such as 1004 Gourmet, 1762 Bakery & More, Basboussa, Casa Della Pasta, Casinetto, Dammann Freres, Koala Picks, Lakrids by Bülow, Let's Popcorn, Naksha, No Dough, and Orient Delight.
Some of the cafes and restaurants within the mall include Starbucks, Café Bateel, Janat Tea Paris, La Romana Dal 1947, Ladurée Paris, Pinkberry, Din Tai Fung, KRIS KROS Lebanon, Le Pain Quotidien, SUSHISAMBA, The Noodle House, and Vapiano.
Nakheel Mall construction details
Construction of all under and above-ground floors and ceiling works, followed by interior works, including granite and glass fixing, were completed by the end of 2018.
Internal and external roads connecting to the mall were completed in May 2016. The road infrastructure mainly includes access roads, elevated ramps, and tunnels, as well as improvements to the pavements that connect the mall's parking and the surrounding road network.
Contractors involved
Nakheel Properties signed an agreement with United Engineering Construction (UNEC) and Actco General Contracting Company for the construction of the mall in July 2014.
Nakheel Properties contracted RSP Architects Planners & Engineers as the lead designer and architect of the mall.
Cost management and project management services provider RLB was contracted by RSP to provide cost consultancy services for the project.
WME provided structural, building and fire engineering, sustainability, and audio-visual and information technology consulting services. AWAJ is the architect of records and supervision.
Nakheel Properties selected Rasana Engineering as the sole steel contractor for the mall. Rasana subcontracted Bentley for its STAAD.Pro Advanced application for analysing the steel structures of the mall.
BIMgrafX, an India-based technology company, was selected to provide building information modelling (BIM) services for the project.
Nakheel signed a contract with Majid Al Futtaim for the construction of VOX Cinemas' screens in the mall. Havelock AHI provided interior works for the theatre complex of the Nakheel Mall.
Alucopanel, a UAE-based aluminium panel supplier, supplied its Alucopanel® A2 external wall façade system for the project.
FIX Concrete Technologies, a UAE-based civil engineering company, provided solutions for structural strengthening of beams, and columns and carbon fibre strengthening solution for slabs.
SE Controls, a smoke and environmental ventilation systems specialist, supplied its control solutions and actuators for the mall's fire safety and smoke control system.
Weatherproofing solutions provider Effisus supplied its Effisus Bond FT and Effisus Stopper weatherproofing solutions for the project.