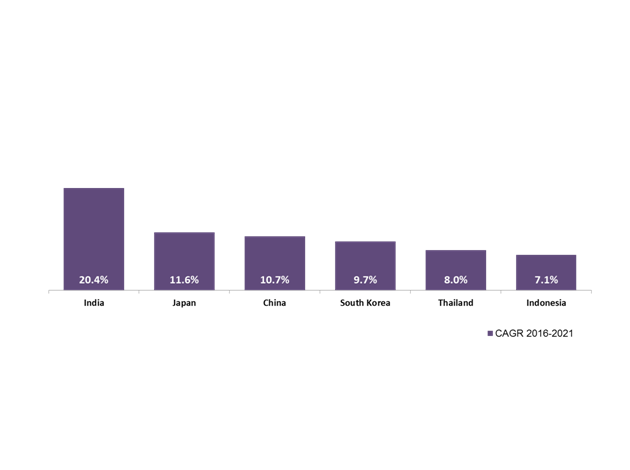 Over the last 10 years the development of retail in airports has been significant, with brands using the channel as an entry method into new markets and as a marketing tool to improve global brand awareness. Even in America we are starting to see improvement, with Lax and JFK showcasing a more modern and commercial use of space. However, for any brand wishing to expand their travel retail presence, or indeed enter the channel, then the Asia Pacific region is where they should prioritise investment.
According to GlobalData, duty free revenue in the Asia Pacific region will grow 57% in the five-year period to 2021 reaching $38.6bn. This rapid growth will increase its share of the global duty free market from 50.6% in 2016 to 56.6% in 2021, while EMEA, North America and LATAM will all see their share decline. Double digit passenger numbers and rising consumer wealth in the region will drive expansion and investment in airports and downtown duty free formats, ensuring duty free retail is the channel to target for international retailers and brands.
South Korea is the largest global duty free market, and while it still offers growth opportunities, smaller markets are quickly becoming lucrative revenue drivers – such as India, Japan, Thailand and Indonesia. Thailand is forecast to enter the top 10 largest duty free markets by 2021, due to increased tourism supporting the construction of larger airports and multiple downtown duty free formats.
Fastest growing duty free markets in APAC (CAGR % 2016-2021)
While at this point GlobalData expects Japan to achieve impressive growth, the strength of the yen is likely to impact prospects if it does not come down. The duty free market in Japan is reliant on Chinese tourism, but with the yuan depreciating against the yen, spending power has reduced and caused duty free volume growth in Japan to ease. Moreover, the Chinese government are working very hard to entice Chinese consumers to spend within China, having backed the development of downtown and arrivals duty free formats.
Brands actively targeting the APAC duty free market include Burberry , Michael Kors, Calvin Klein , Lacoste , Coach, Furla , Hugo Boss and Superdry so competition for prime space will be fierce for those only just entering the market.