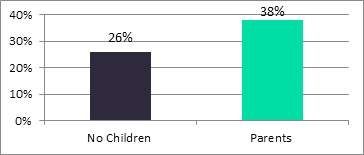 In the present day, it has become common for young adults to delay the 'settling down' stage, which would have traditionally encompassed marriage as well as parenthood, in favor of pursuing other accomplishments.
When such accomplishments have been achieved, consumers may choose to have fewer children as compared with previous generations (for financial or other reasons), or ultimately, they may decide not to have any children at all.
In explaining this further, 38% of parents, compared to just 26% of non-parents, feel pressure to follow societal norms, according to GlobalData's 2016 primary consumer research. Such consumers may therefore perceive delayed parenthood as prolonging a sense of freedom, which manufacturers must recognise.
In fact, during parenthood, many consumers continue to partake in the same hobbies and activities that they did prior to this major life change. Even as parents, consumers value their social lives, and recognize the importance of leading a healthy, balanced lifestyle. For example, according to GlobalData's 2016 primary consumer research, the vast majority of parents globally (90%) believe that both rest and relaxation, and developing or maintaining positive relationships is somewhat or very important in creating a feeling of wellbeing or wellness. A further 85% of parents globally believe that exercising and improving physical fitness is important for this.
Recognizing this, brands should focus on more closely aligning products targeted towards parents with their more overarching lifestyles and interests, rather than contributing to the narrow view that parents do not have lives outside of their childcare responsibilities. This would also help to alleviate the pressure that parents feel to follow the societal and cultural norms in their respective countries, and more confidently embrace and pursue their personal interests and hobbies.