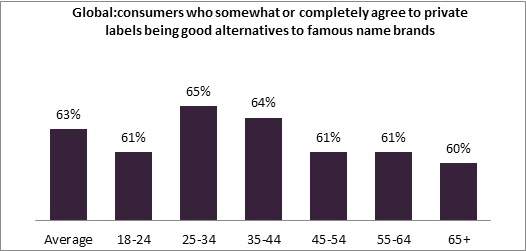 Store brands appear to be "on the right path" in winning over consumers, as nearly two-thirds (63%) of shoppers globally somewhat/completely agree that private labels are good alternatives to famous name brands (GlobalData's 2016 Q3 global consumer survey).
This positive shift in consumers' perception towards private labels showcases that retailers are clearly "getting it right" in adapting to the ever changing consumers' needs and demands. British-based retailer Waitrose for example, has successfully launched its first ever premium range of food "Waitrose 1" in 2016, capturing shoppers' desire for premium, high-quality ingredients. Waitrose 1, initially including 520 different items from the usual ready meals to fresh veg and meat, tapped into premium novelty-seeking offerings such as Tanzanian chocolate ice-cream, in bid to attract shoppers.
Proliferation in innovation seen across the private label space in recent years could be one of the main pillars driving consumer traction. As a result of this, retailers are noticeably tapping into launching more sophisticated product ranges in bid to compete against national brands on a higher level.