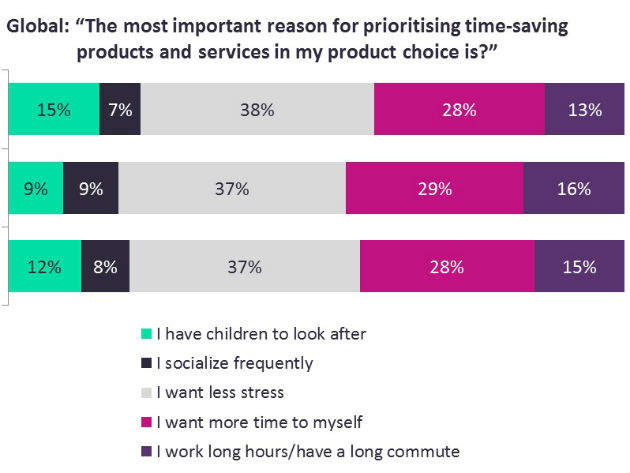 The world has become busier for many people because of their increasingly long working hours, commutes and family responsibilities. As a result, 60% of global consumers said that they rely heavily on time-saving products and services, according to GlobalData's 2016 Q3 consumer survey, to maximise their leisure time.
Consumers are relying more on convenient products as a means to combat feelings of time-scarcity that have been growing, particularly in emerging economies, because of the changes brought on by urbanisation, industrialisation and globalisation.
These developments are radically changing all people's lives in emerging economies but are having a more dramatic effect on women because they have been able to enter the workforce en masse. As such, this is fuelling demand for more convenient, time-saving products as women, who traditionally stayed within the home sphere, lack the time to cook and clean due to work commitments.
Consequently, many global households have had to adjust to women's new working patterns by sharing traditional housework. The sharing of household labor has increased feelings of time-scarcity for both genders which in turn has driven demand for time-saving products that help consumers reduce time spent on chores like cooking and cleaning.
However, the reasons for consumers to purchase these products are still influenced by gender. For instance, 15% of women state that the most important reason for time saving products is because they have children to look after compared to only 9% of men.
Despite the large numbers of women now in the global workforce many still stay at home in traditional roles. This is highlighted by the 16% of men that stated that the most important reason for time-saving products is because of their long working hours/commutes compared to 13% of women.
Nevertheless, the most important reasons for choosing time-saving products are similar across genders: to reduce stress and to meet a desire for more personal time. This illustrates how influential work and the decreasing power of traditional household structures are when influencing consumers purchasing patterns.
In fact, these gender-neutral needs will become more important in the long term as consumers increasingly move away from constrictive gender roles to cope with the new pressures and responsibilities of daily life.