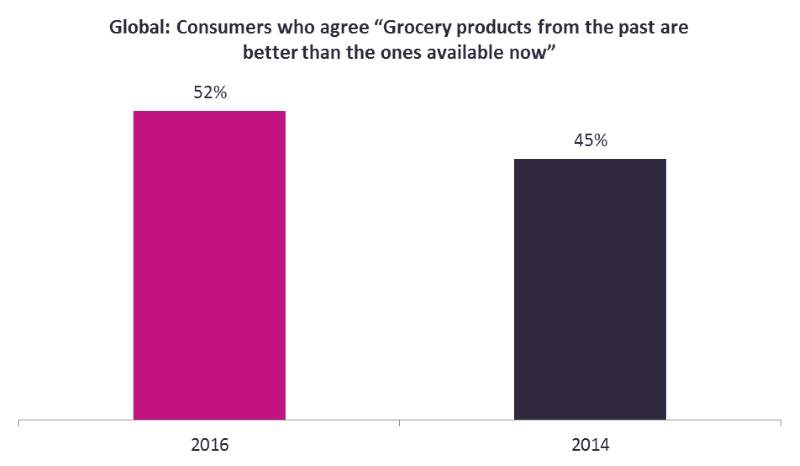 Source: GlobalData's global consumer surveys, Q3 2016 and 2014
Today's consumers are riding a wave of nostalgia. Nokia has brought back its classic 3310 mobile phone; vinyl record sales are at a 25-year high; and pre-orders for Nintendo's relaunch of the classic 1990s SNES console sold out in minutes.
This yearning for "retro" products is not just limited to technology. According to research by GlobalData, more than half of consumers believe grocery products from the past are better than the ones available now.
In fact consumers have become more skeptical of the quality of modern grocery products over time, as belief that products from the past are better increased from 2014 to 2016. This increased sentimentality toward the past is driving demand for retro revivals, as consumers look favourably on old brands and products they remember from years gone by.
So why are consumers so fond of the past?
In today's digital age, consumers are starting to long for a life less complicated, before modern technology took over. Amid the complexities and uncertainties of today's world – from Trump to Brexit – consumers long for simpler times and are turning to products that remind them of this.
The ultimate challenge for brands is to reinterpret nostalgia in a way that captures the charm and authenticity that consumers seek, while still leaving room for growth and evolution in a world where consumer needs are ever-changing.