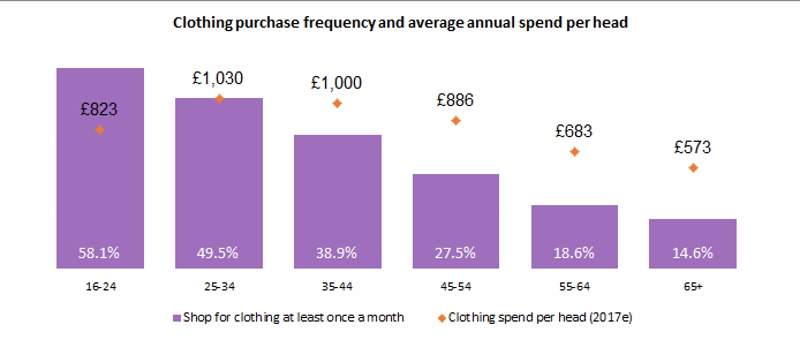 Figure 1: Clothing purchase frequency and average annual spend per head. Source: GlobalData Retail's How Britain Shops survey of 10,000 UK consumers, conducted in March 2017. Chart shows the proportion of clothing shoppers by age that buy clothing at least once a month, and the forecast annual spend per head on clothing in 2017.
New research from GlobalData has found that young clothing shoppers have the highest purchase frequency in the UK, with 58.1% of 16-24s buying clothing at least once a month, compared to 14.6% of those who are 65 and over.
Regular spending among young shoppers is encouraged by the faster turnover of fashion ranges and more accessible choice, especially online, helping to drive up annual clothing spend, which in 2017 is forecast at £140 higher than that of 55-64s, and £250 higher than the 65+s.
An innate understanding of their core demographic has been central to the success of youth fashion players, with investment in customer engagement, especially via social media, driving regular wants-driven purchases. Indeed, 64.5% of ASOS clothing shoppers shop for clothing once a month, with 56.6% of New Look shoppers also stating they shop as frequently for the category.
In contrast, both M&S and Debenhams have a higher proportion of occasional clothing shoppers with just 29% and 39.4% of their clothing shoppers buying into the category monthly. The current 65+ shoppers are unlikely to significantly change the regularity of their purchasing, citing that they have less need for constant wardrobe updates, but retailers can still make this demographic more lucrative. High street players must instead focus on driving up basket sizes via outfit building, editorial content and a more personalised service, as well as more enjoyable shopping experiences, in a bid to make their core customer base of predominantly occasional shoppers more valuable.
The above data is included in GlobalData's forthcoming UK Clothing Market 2017-2022 report, which will be released in June. The current UK Clothing Market 2016-2021 report can be found here.