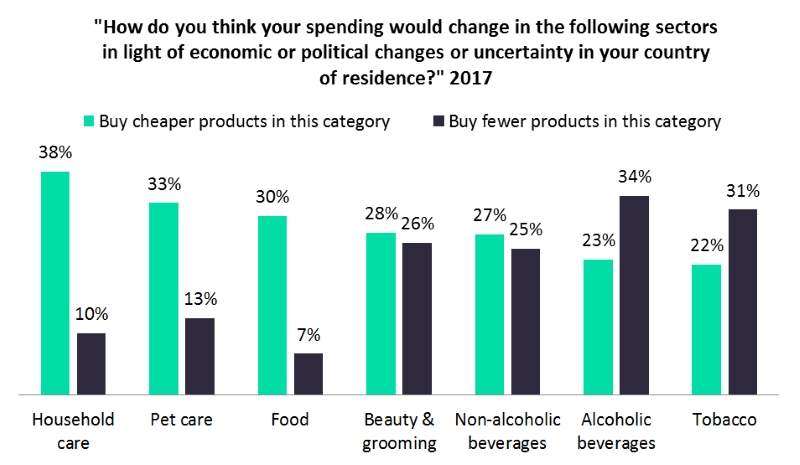 Source: GlobalData 2017 Q1 global consumer survey
According to GlobalData's 2017 primary consumer research, almost two thirds (62%) of millennials are concerned or very concerned about their current financial situation. It comes as no surprise, then, that in light of economic or political changes or uncertainty in their respective countries of residence, millennials would cut back on their spending in certain areas. Sectors particularly impacted are household care where over a third (38%) of millennials say they would buy cheaper products, followed by pet care with a third of millennials (33%) saying they would buy cheaper products in this sector.
It is significant, however, within tobacco and alcoholic beverages that millennials are more likely to purchase fewer of these products in light of economic and political uncertainties rather than buy cheaper versions.
This unwillingness to trade down is particularly indicative of the loyalty that these consumers express toward brands in these sectors. Such findings also indicate that for some, these products are perceived as treat items during times of economic constraint. Millennial consumers that do not want to forego on purchasing their preferred brands, and continue to desire an enjoyable experience, therefore opt to purchase such items less frequently during times of economic adversity as a way of keeping their spending levels down.