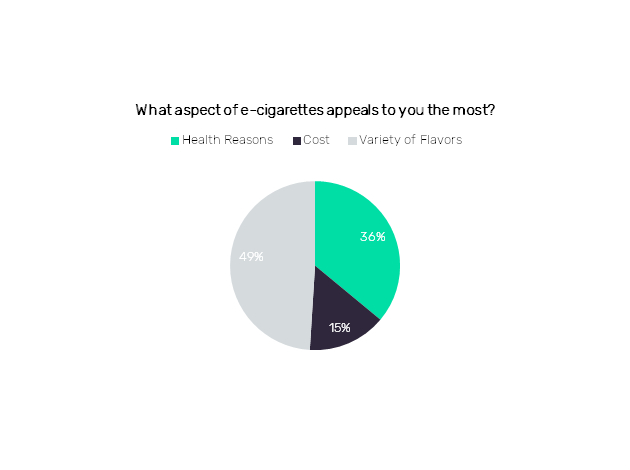 In contrast to developed markets, where tobacco prices are higher and regulation more stringent, the low price of tobacco products in emerging markets is a disincentive for switching to e-cigarettes. How, then, do we account for the growth in popularity of e-cigarettes in emerging markets? And how should manufacturers position themselves to effectively target this next generation?
An average of 49% of e-cigarette users in GlobalData's 2016 Next Generation Emerging Markets Consumer Survey identified 'variety of flavors' as the aspect of e-cigarettes which appeals to them most. 36% cited 'health reasons' and a further 15% identified 'cost'.
Health perceptions are important. Indeed, on a global level 68% of smokers in the Asia-Pacific region, 65% in Africa and 60% in Latin America want to quit smoking (higher than the 51% reported in Europe). Furthermore, on average smokers in emerging markets feel more embarrassed smoking in front of others than those in developed ones . The social isolation and targeted public health campaigns which aim to discourage cigarette smoking could push stubborn smokers towards e-cigarettes. Manufacturers should address this group by distancing e-cigarettes from the stigma and negative aesthetic associated with traditional mediums.
There is, however, a noticeable disparity between awareness of the perceived risk and cosmetic issues associated with smoking cigarettes and the desire to switch to e-cigarettes. According to GlobalData's 2016 Next Generation Emerging Markets consumer survey, 39% of smokers claim they are actively trying to shift from cigarettes/cigars to e-cigarettes, and yet this is not exclusively for risk reduction or cost reasons. In Morocco for example, over half of e-cigarette users cited 'health reasons' as the aspect of e-cigarettes which appealed to them most, and yet just 28% reported actually switching to e-cigarettes. Given that cost isn't a significant motivation in these two countries either, it is reasonable to state the importance of 'variety of flavors' in encouraging people to use e-cigarettes. Fun and novelty considerations feature more heavily in the decision to switch in these countries.
The proliferation of flavors and technologies suggests that e-cigarettes are more than a means for cessation. Addressing the 50% of consumers in Asia-Pacific and 36% in Africa who believe that smoking is a way of helping socialize with others is the key to unlocking growth in emerging markets . Positioning e-cigarettes as a conduit to social occasions, in countries where consumers enjoy socializing and sharing new experiences with others, will help manufacturers develop their presence in these markets.