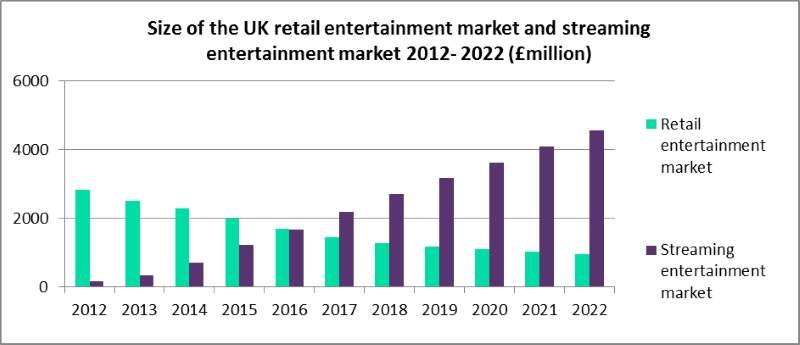 Revenue from music and video streaming services, such as Netflix and Spotify, will overtake retail in the entertainment market for the first time in 2017. The retail market, which comprises physical and download TV, film and music, has consecutively declined year-on-year since 2013, with consumers diverting spend to ever-more popular streaming services.
In 2017, 60.3% of spend on entertainment will be via streaming compared to only 5.3% in 2012, and while growth is set to slow over the next five years, more consumers are choosing to access entertainment in this format than ever before.
After the demise of the music download market caused iTunes sales to struggle, Apple launched its own streaming service, Apple Music, in 2015. Amazon followed by launching Amazon Unlimited in 2016. With greater competition in the market, customers are benefitting from longer free trials and greater choice and variation in content, attracting more consumers to the market.
Source: GlobalData
More retailers are also set to enter the market in the future. Disney introduced its own service Disney Life in 2015 and will extend this to its other franchise, ESPN, in 2018. It will also stop companies such as Netflix from streaming its future releases, leading some consumers to pay for multiple streaming services subscriptions. Additionally Tesla, run by Elon Musk, is rumoured to be launching its own music streaming service to rival the likes of Spotify, Amazon and Apple – though this is likely to be in the US only initially. With greater competition, these services are getting bigger and better, offering greater selections as well as unique content, which provide even more of an incentive for customers to covert to streaming services.
However, despite a positive future, there are a number of obstacles these services must overcome to ensure long-lasting success. Particularly in the music market, streaming companies have come under fire about the royalties paid to artists, a dispute that saw Taylor Swift pull her music from services such as Spotify in 2014, with her music not returning to these platforms until June this year.
Furthermore, video streaming services rely on an enjoyable viewing experience, but long buffering times and pixelated screens will deter consumers if improvements are not made, and this will be a limitation for streaming services until broadband coverage sees further improvement.
The decline of the retail entertainment market is set to slow by 2022, as streaming retailers struggle to encourage more of the loyalist physical music and video customers to buy into these services. Focusing on the viewing and listening experience, with exclusive content and early access, will ensure loyalty and gain popularity among more steadfast physical music and video consumers.