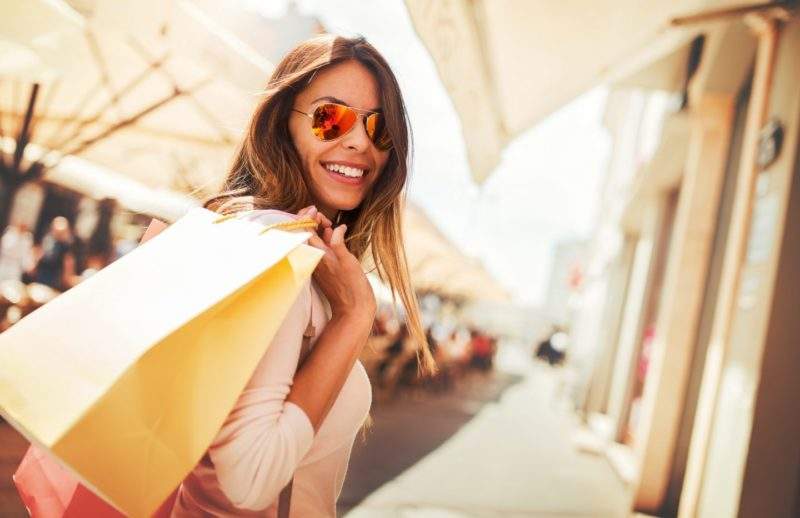 In another blow against high street shopping, a huge 80% of UK consumers are planning to avoid the shops on Black Friday, 23 November, this year.
Over half of people surveyed by customer experience firm Genesys say shops will simply be too busy.
Black Friday is a retail sales event that started in the US. Internet sales giant Amazon is said to have brought it to the UK in 2010.
According to Genesys, Black Friday really gained momentum among British consumers from 2013.
What does Black Friday mean for the high street?
The UK online retail association Interactive Media in Retail Group says UK shoppers spent £1.39bn on online sales on Black Friday 2017.
Total sales are expected to hit £5bn this year, with half of that coming from online.
As internet sales increase, there is a question about how Black Friday and the following Cyber Monday, when retailers cut prices for goods online, could affect high street shops.
According to The Guardian, the UK's high streets had 5,855 closures in 2017, more than in any year since 2010.
In the same time period, the Office for National Statistics said average weekly internet sales nearly tripled.
The dual sales events should, in theory, encourage people to visit the shops, as consumers might be drawn to look at and try out possible purchases.
However, the growth of reviews online and specialist review sites could damage this opportunity.
Customer experience has become more important than the purchase
Experts in customer experience are sceptical of shopping increasing at the high street during Black Friday.
Genesys digital lead Richard McCrossan said: "This year, the vast majority of British consumers are planning to stay away from stores on Black Friday because it's not worth the bother.
"They prefer shopping online in the comfort of their own home, or whatever location is convenient, to the chaos of dealing with crowded high-street stores.
"Shopping has become as much about the experience as the purchase, and during the holidays, that means speed is of the essence and convenience is king."
He added that a very small number, only 5% of people surveyed, said low standards of customer service put them off visiting physical stores, pointing to other factors around the customer experience.
He added: "With an estimated 14 stores per day closing in the UK, retailers must meet consumers' expectations for hassle-free experiences at every touchpoint, from making payments to finding answers to questions, to getting personalised, friendly service."
Men avoid Black Friday because there are better deals
Genesys found differences in numbers between men and women choosing to shop on Black Friday.
More women said they would not enter a store on Black Friday and more women said the reason was that the shops would be too busy.
More men than women said they were not planning to go into a store on Black Friday because better deals were available at other times of the year.
Some stores have extended their sales to make a Black Friday week, while others have excluded themselves from the event, perhaps because they already offer summer and Boxing Day sales or discounts all year.
Between generations, more 18 to 24-year-olds said stores are too busy on Black Friday compared with people over the age of 55.
But 25 to 34-year-olds are expected to spend more, around £154 on average on the day, while the average consumer will spend £90.