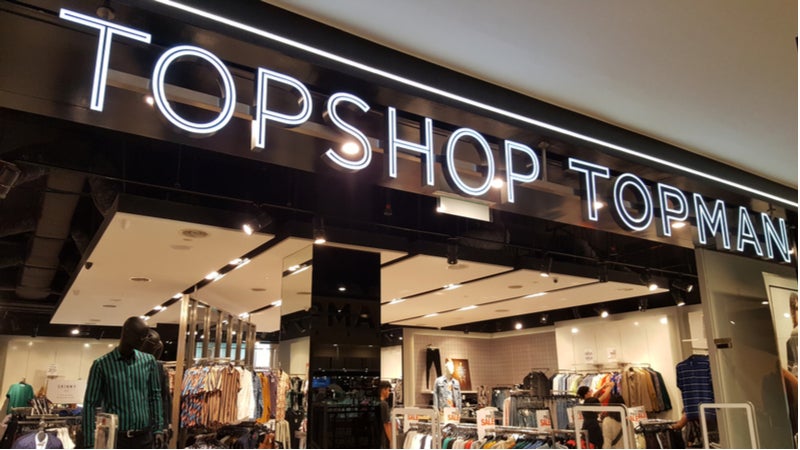 Online fashion retailer ASOS is set to buy Arcadia Group brands Topshop, Topman, HIIT, and Miss Selfridge for £265m but has not agreed to buy any physical stores, thereby putting 2,500 high street jobs at risk.
As part of the deal, ASOS will keep on 300 head office staff to help ASOS with design, buying, and retail partnerships. No other jobs will be kept under this acquisition.
The online retailer paid a further £65m for current and pre-ordered stock.
ASOS chief executive Nick Beighton said: "The acquisition of these iconic British brands is a hugely exciting moment for ASOS and our customers and will help accelerate our multi-brand platform strategy.
"We have been central to driving their recent growth online and, under our ownership, we will develop them further, using our design, marketing, technology, and logistics expertise, and working closely with key strategic retail partners in the UK and around the world."
The acquisition comes after Arcadia Group fell into administration last year and a week after online competitor Boohoo acquired Debenhams. Boohoo also announced last week that it was in talks to buy Dorothy Perkins, Wallis, and Burton brands without intention to keep physical stores.
"There is going to be a massive gap on our high streets"
Retail expert and product tracker Alertr co-founder Andy Barr told Retail Insight Network that the speed at which physical stores are being acquired by online retailers may lead to an empty high street.
Barr said: "Whilst it is great news that we're not going to lose the likes of Topshop, Topman and Miss Selfridge, it looks like the inevitable move from high street to online is being fast-tracked, and if we continue at this rate, we won't have any retail stores to return to once lockdown is over.
"The high street has been on the decline for years, but I don't think we expected to see so many of our favourite stores disappear for good so soon. It seems the future for a lot of people is uncertain, with thousands of job losses expected in the coming months.
"With the current trend of online retailers acquiring bricks-and-mortar stores without the bricks and mortar, there is going to be a massive gap on our high streets; hopefully this can be filled by something else, but I won't hold my breath."
Retail landlords "need to realign rents in line with the current times"
Cowgills subsidiary The Insolvency Experts director Ben Cowgill told Retail Insight Network that this acquisition will lead to a reduced high street footfall and, subsequently, a need to renegotiate with landlords.
Cowgill said: "This deal will increase the number of empty stores both on the high street and in shopping centres. Supply of retail property will, therefore, further outweigh demand.
"This means that new prospective tenants will be in a stronger bargaining position with regards to rent prices. Existing tenants are likely to see a further reduction in footfall on the high street as people who specifically went into town centres/shopping centres to visit Topshop & Miss Selfridge will no longer be doing so. This may impact negatively on their turnover and prompt them to renegotiate with landlords. As a result of this pressure, landlords will likely need to realign rents in line with the current times.
"There will also be an increased amount of pressure on the Government to revisit business rates, or even to consider scrapping altogether in order to assist traditional retailers to compete with those who are making a huge amount of profit online."
Cowgill added: "A huge lesson for other retailers is that it is extremely important to stay with the times. Also, what sort of experience can businesses offer in-store that cannot be experienced online? For example, excellent customer service, the ability to try clothing on, trying free samples?"
Physical retailers need to adapt to compete with "digital natives"
Global commerce company LiveArea EMEA commerce consulting director Elliott Jacobs told Retail Insight Network that this latest acquisition shows that's the "redistribution of retail power" now "sits firmly with digitally native brands."
Jacobs said: "The latest deal is in keeping with the pandemic's recent acquisitions, an online giant taking a former high street powerhouse. ASOS is the obvious choice of buyer for a number of reasons. Primarily, it is already one of the biggest wholesalers for the brands it has acquired, and picking up Topshop, Topman, Miss Selfridge and HIIT will allow it to further diversify its portfolio of online offerings.
"With Boohoo expected to pick up Arcadia's remaining brands, it's clear to all that digital is the key to retail. Digital natives are reaping the rewards of the agility that comes from digital investments. Both Asos and Boohoo are on their way to becoming e-commerce superpowers as they consolidate their positions in the new market.
"Only by investing in online capabilities will companies be able to adapt to and predict market changes – companies that don't make the right investments will not stand the test of time."