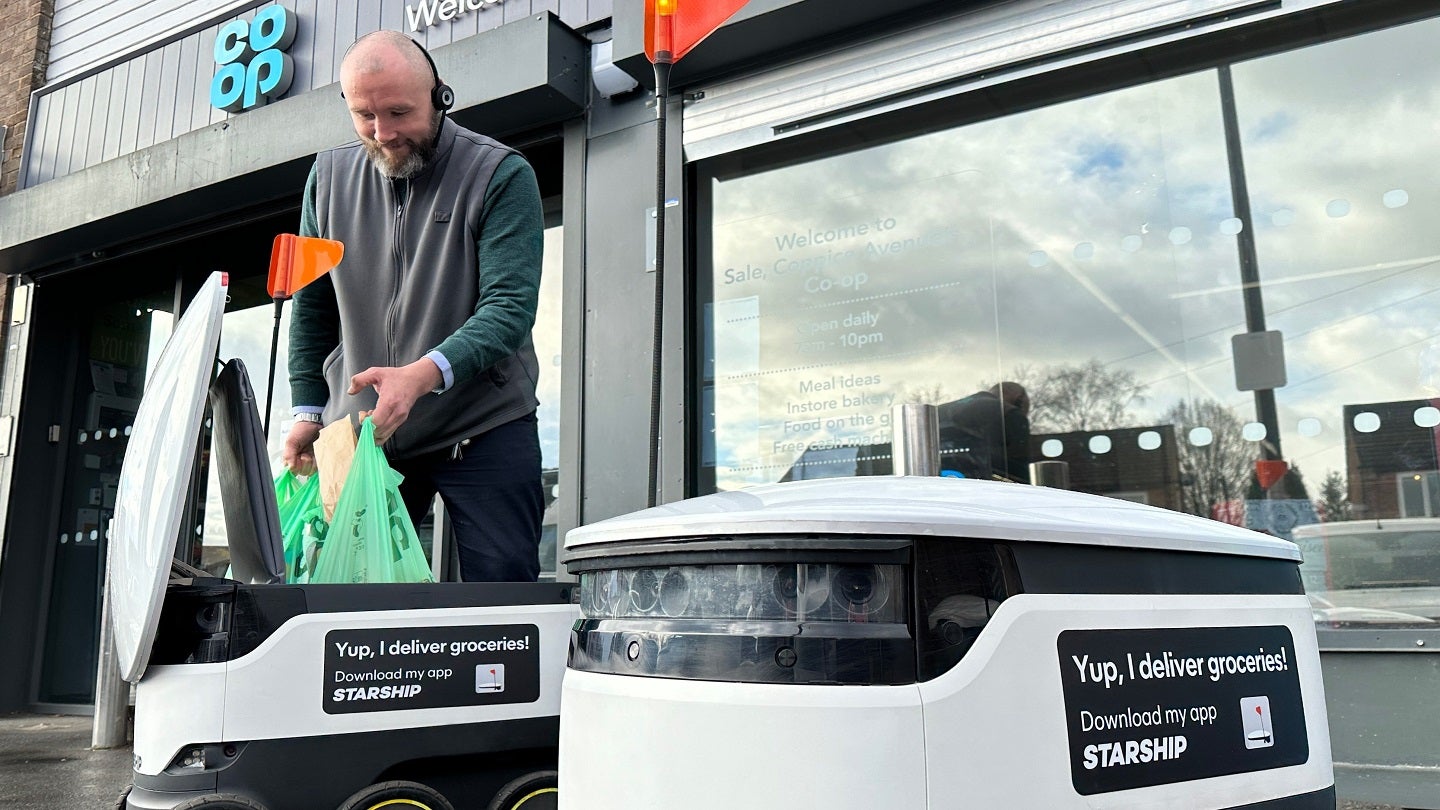 British co-operative group Co-op has partnered with Starship Technologies and Trafford Council to introduce robot grocery deliveries in Greater Manchester, UK.
The delivery service will be initially accessible to 24,000 residents across 10,500 households in the region.
Each delivery will carry a minimum fee of £0.99 ($1.20).
Customers can order groceries through the Starship food delivery app, which is available for both iOS and Android users.
Groceries will be picked from local Co-op stores on Washway Road and Coppice Avenue.
Co-op e-commerce director Chris Conway said: "Co-op stores are well-placed in the heart of local communities to provide quick, easy and convenient home deliveries ‒ whether a full shop or last-minute top-ups.
"We are committed to exploring new and innovative ways to increase access to our products and services and delighted to be able to roll-out autonomous robots to provide additional online flexibility and choice in Greater Manchester."
The launch comes after Co-op introduced the service in Cambridge in November last year in partnership with Cambridgeshire County Council and Starship Technologies.
Last July, the autonomous delivery service was introduced in Bedford and North Northamptonshire.
Starship robots are powered by battery and can travel at speeds of up to 4mph.
They use sensors, artificial intelligence, machine learning and a computer vision-based navigation system.
Starship Technologies UK operation manager Andrew Curtis said: "The robots provide ease and convenience for people, while also making a positive contribution to reducing congestion and carbon emissions.
"We are confident that the service will be well received and look forward to a long-standing relationship with Trafford Council to hopefully roll the service out further in the months ahead."
Last month, Co-op announced plans to remove 'best before' dates from its fresh produce lines.
More than 150 Co-op products such as apples, oranges, tomatoes, carrots, potatoes, onions and broccoli will no longer display the dates on their packaging.