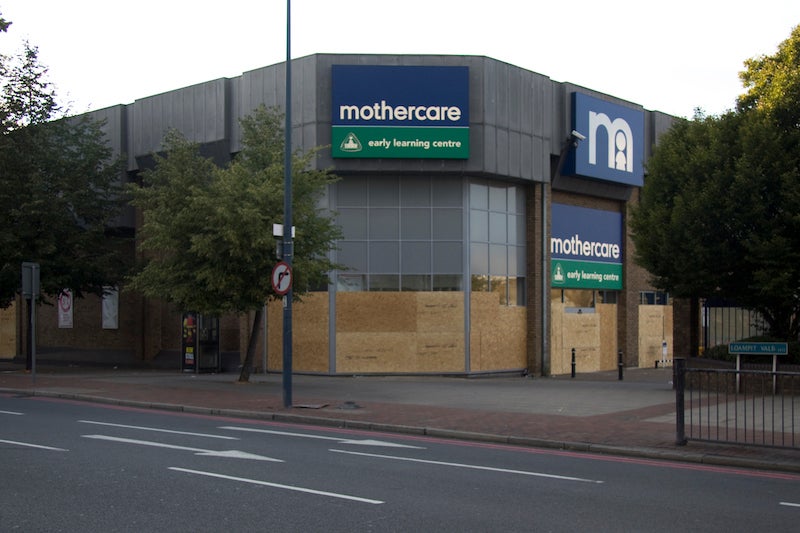 UK pregnancy and child product retailer Mothercare has reported its UK sales have fallen 11.8% to £336.6m in its financial year (FY2018/19) figures for the 53 weeks to 30 March 2019.
The results came as the retailer finishes the first full year of its strategic transformation plan, which included its CVA UK store closure programme. Mothercare now operates 79 UK stores, down 30% from 134 stores in 2018.
Group worldwide sales including continuing and discontinued operations fell 7.9% to £1,071.2m from £1,162.9m in the 52 weeks to 24 March 2018. Total group revenue declined 13.5% to £566.3m from £654.5m.
Group performance for continuing operations worldwide sales fell 7.1% to £948m from £1,020.3m and total group revenue fell 11.5% to £513.8m from £580.6m the previous year. UK online sales were down 8% to £140.1m from £152.3m and UK like-for-like sales declined 8.9%.
The retailer reduced its net debt to £6.9m from £44.1m, an 84.4% change year-on-year.
Mothercare CEO Mark Newton-Jones said: "We have achieved a huge amount this year, refinancing, restructuring and reorganising Mothercare to ensure a sustainable future for the business. The majority of that work is now done, including the completion of our store closure programme, leaving us with 79 stores, which are well positioned to support our UK customer base.
"We have also sold Early Learning Centre and our Head Office, and the proceeds have been used to greatly reduce our debt. Combined with a new approach to sourcing product and our organisational restructuring, we have a much-reduced cost base.
"Whilst this major restructuring activity has resulted in significant headline losses for the year, the business is now on a sounder financial footing.
"The next phase of our strategic transformation plan is to develop Mothercare as a global brand, maximising the opportunities we see across many international markets. At the same time, our primary focus in the UK will be the development of our online proposition, the introduction of enhanced credit options and more exclusivity in product, coupled with a reinforcement of our specialist and service credentials.
"In the early stages of this financial year, we are seeing some improving UK trends as we continue to rebuild to be the specialist retailer for parents and young children."
Mothercare e-commerce fails to woo customers
GlobalData retail analyst Emily Salter said: "Mothercare has emerged from the first full year of its strategic transformation plan with little evidence of recovery as total UK sales fell £44.9m to £336.6m. The retailer is one of many to blame its poor performance on difficult trading conditions in the UK, as well as weakened consumer confidence in the brand due to negative publicity and long term underinvestment, contributing to a disastrous H1 when total UK sales plummeted by 18.4%.
"Mothercare performed substantially better in its international markets, reporting growth in Russia, China and Indonesia as it tries to develop a global brand. The retailer's share price increased by 18% in early trading, as it reported seeing some signs of recovery in the UK market in the first few months of FY2019/20.
"A vital problem faced by Mothercare is that it seems to have been unable to convert shoppers to its online platform after store closures as e-commerce sales decreased significantly. Many previous Mothercare shoppers whose closest store has closed will have turned to online behemoth Amazon instead, attracted by its wide range of brands, lower prices and convenience, as well as online baby specialist PreciousLittleOne, which offers a range of branded and own-branded products. John Lewis, Tesco and ASDA are also gaining share in the baby market as specialists struggle, and Mothercare will find it hard to compete with these players in terms of convenience and price.
"Mothercare must now focus on maximising footfall and sales from its remaining store estate, perhaps hosting in-store events to emphasise its credentials as a specialist in the market and focus on what Amazon can't do. Its online proposition must also be improved, which the retailer states as its primary focus for the UK, so it can compete with online and multichannel players in the future."