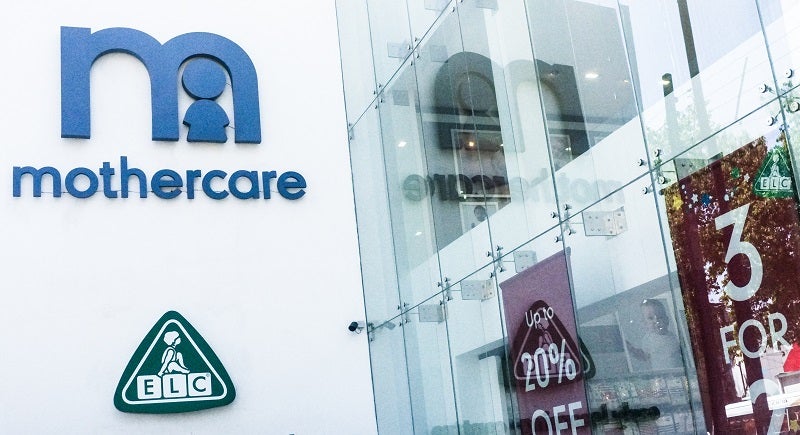 UK pregnancy and child product retailer Mothercare has been urged to focus on its transformation plan, following the release of its Q4 financial results.
The results showed that its UK total and like-for-like sales continued to fall, declining 14.5% and 8.8% respectively, over the 12-week period up to 30 March. Group worldwide sales fell by 8.8% while total group sales declined by 13.9%.
Mothercare CEO Mark Newton-Jones said: "We have continued to make significant progress in our final quarter as we continue our strategic transformation to deliver a sustainable and profitable future for Mothercare.
"The UK store closure programme has been completed ahead of schedule and we now have 80 stores in operation, down from 137 stores a year ago.
"We continue to manage our cash tightly and we have further reduced the levels of debt as part of our aspiration to be bank debt free by the end of 2019. Reduction in debt has also been aided by the sale of Early Learning Centre, which was another strategic milestone for Mothercare and gives us a new UK concession arrangement for our toy category with The Entertainer, who will bring our customers a broader and stronger product offer."
Analysts suggest shift in Mothercare transformation plan
GlobalData retail analyst Amy Higginbotham said: ''Mothercare emphasised the progress it says it is making with its strategic transformation plan in its Q4 trading update this morning, but the figures suggest a lot more work is still to be done.
"Though a drop in total sales is expected, when closing stores, the continued decline in like-for-likes indicates that the retailer is still burdened with underperforming stores, despite the completion of its store closure programme. It also shows that Mothercare is failing to get shoppers at closing stores to make the effort to go to their next closest location."
Higginbotham added: "This quarter sales of clearance stock in closure stores eroded margins and impacted full price online sales, as consumers shopped instore to take advantage of discounts. Worryingly, Mothercare's online sales are not strong enough to prop up falling UK store sales and its inferior digital platform leaves it exposed to intensifying competition.
"Mothercare is turning to international markets in an effort support overall growth, having increased its space abroad by 5.5% during the quarter. But this is problematic, as international sales growth remains negative, seeing growth in only a few markets such as Russia, India and Indonesia.
"CEO Mark Newton-Jones will have a lot of work to do in FY2019/2020 to reverse Mothercare's downward trajectory. The retailer should continue to focus on optimising its store estate and driving footfall to combat falling like-for-likes, and should leverage its specialist credentials to draw consumers away from the likes of Amazon. Investment in its digital platform is also essential as spend will continue to shift online," concluded Higginbotham.