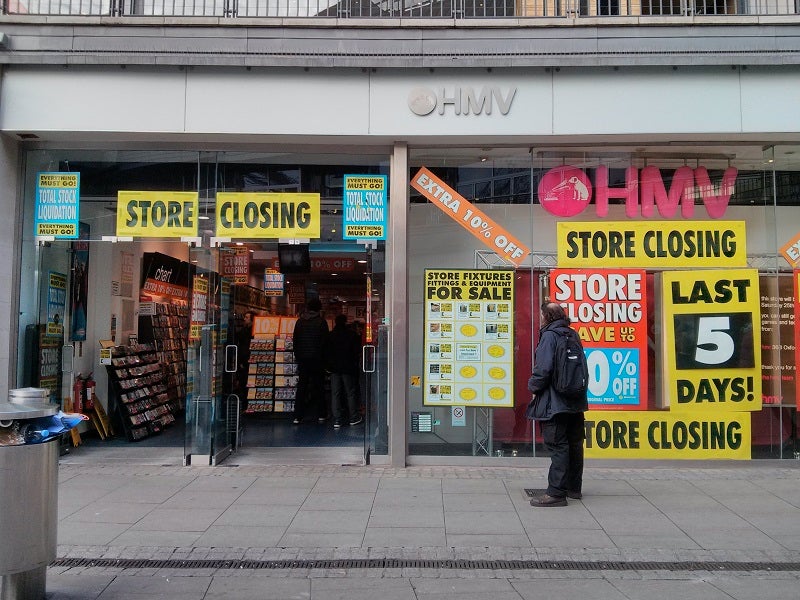 Sports Direct CEO Mike Ashley has made a bid to buy music retailer HMV after it entered into administration for the second time in six years last month.
According to Sky News, Ashley has held rescue deal talks with HMV suppliers that could lead to him owning the company ­­­­­and connecting it to his retail empire which includes Sports Direct, in which owns over 60%, GAME, in which he owns over 25%, House of Fraser and Evans Cycles. Ashley also owns shares in Debenhams and French Connection. Ashley has been bullish in his high street retailer acquisition and failed to back the board re-election of Debenhams chief executive office Sergio Bucher and former chair Ian Cheshire earlier this month.
GlobalData UK retail research director Patrick O'Brien said: "It appears that Mike Ashley is in the market to hoover up distressed retailers in the UK, but as of yet he hasn't disclosed a clear strategy of how he plans to successfully stitch them all together.
"HMV could of course take up space in some House of Frasers, but with the CD and DVD markets in freefall – and the vinyl revival appears to have peaked – it's difficult to see a case for any owner retaining a store portfolio of 125. More likely is that any bidder will be looking to it on with a much reduced number of stores. Mike Ashley does have a major stake in video game retailer GAME Digital and may be considering how the GAME and HMV brands could work together in the same spaces."
HMV and Hilco owner Paul McGowan has blamed the "tsunami of challenges facing UK retailers" and the "dramatic change in consumer behaviour" as to why HMV has not been able to survive. HMV has 125 stores across the UK went in to administration before Christmas putting 2,200 jobs at risk
HMV's administrator KPMG ­­­­­­­­­­­­­­and Sports Direct have declined to comment.