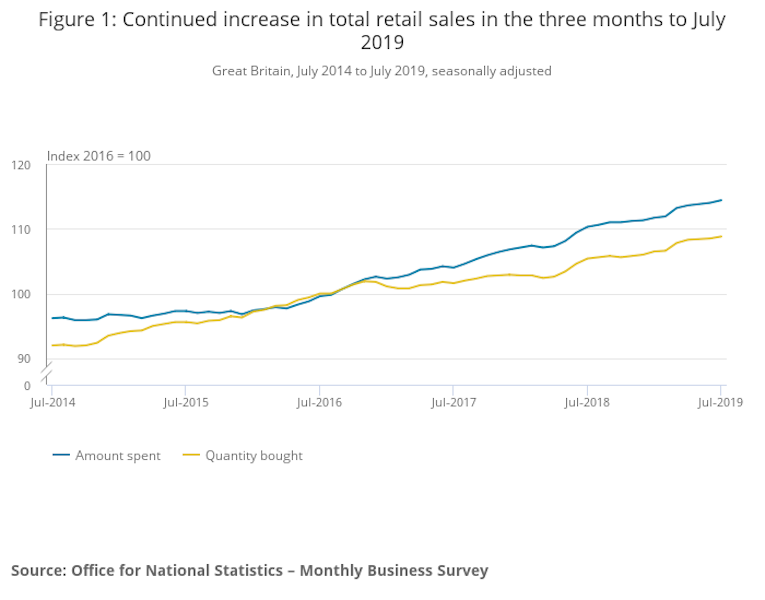 UK retail sales in July 2019 rose unexpectedly, with online spend contributing 19.9% of total retailing, compared with 18.9% in June 2019, according to the latest Retail Sales, Great Britain report by the Office for National Statistics (ONS).
ONS said that the increase in online spend shows an overall growth of 12.7% when compared with the same month a year earlier.
The report also revealed that the quantity bought in UK retail sales increased by 0.5% in the three months to July 2019, compared with the previous three months, while UK retail sales in food stores and fuel stores saw a decline.
Non-store retailing increased by 6.9%, with the overall quantity bought in July 2019 increasing by 0.2%, compared with the previous month.
Growth in department stores increased for the first time this year with month-on-month growth of 1.6%. The ONS said that this was following six consecutive months of decline.
Year-on-year growth in the quantity bought increased by 3.3% in July 2019, with food stores being the only main sector experiencing a decline of -0.5%.
Money Saving Heroes spokesperson George Charles said: "Taking many by surprise, high street, sales have apparently risen by 0.2% in July; does this mean we are going to see a budding comeback of the high street? Unlikely, especially when you take into account the many retailers who are struggling to turn a profit, but this good news is a welcome change to the usual negative news climate.
"However, if you step back and glance at the bigger picture, the fall in the pound is definitely a large contributor to this seemingly good news; retailers will be aware that this is likely just a flash in the pan and, with a potential financial crisis around the corner, retail sales will likely drop again as we enter the predicted recession."
Last month, the ONS reported that British retail sales volume increased by 0.7% for the three months to June 2019, with growth across all sectors except department stores and food
Is online shopping the saviour for UK retail sales?
With the UK high street struggling to stay afloat, consumers are turning to online shopping as their preferred route of spending.
Last month, online shopping was predicted to contribute to more than half (53%) of the total retail sales in the next ten years, according to a recent report commissioned by law firm Womble Bond Dickinson.
Earlier this year, it was reported that the UK's historic high streets are to benefit from a £62m government investment to regenerate heritage buildings into modern offices, housing and creative spaces.
The investment is a part of the government's on-going efforts to help the UK high street adjust to changing consumer habits, such as the shift towards online and social media shopping.