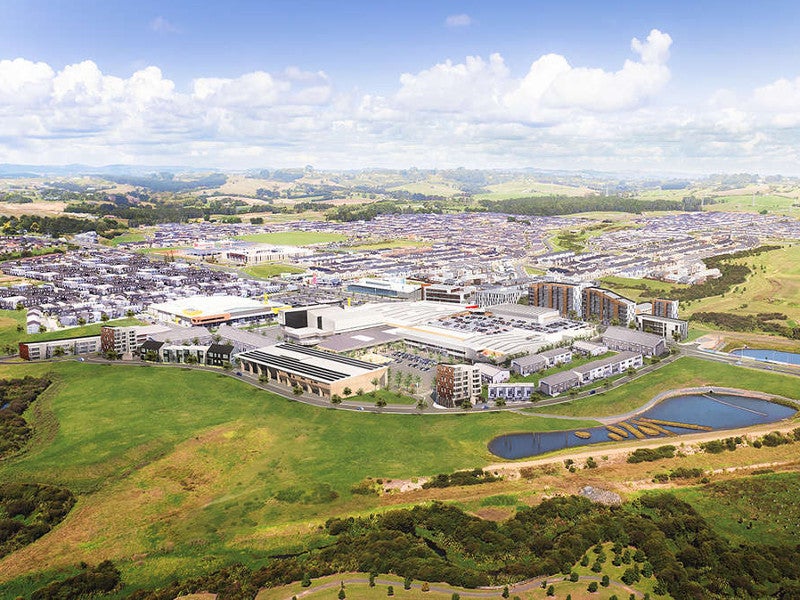 Ormiston Town Centre is a new shopping complex being built in south-east Auckland, New Zealand. The innovative master-planned community is being developed by a partnership between Todd Property Group and Auckland Council Property Limited (ACPL).
The complex will feature retail stores, restaurants, gym, movie theatres, library, an aquatic centre, and a range of public open spaces that link it to the adjoining park.
Construction of the town centre was commenced in April 2015 and is expected to be completed in 2022.
The new retail complex will serve the growing population at the main trading area, which is expected to increase to 242,570 by 2033. The retail expenditure of the area is predicted to reach $4.09bn by 2033.
Ormiston Town Centre location
The Ormiston Town Centre will extend over a 4.5ha site at Ormiston Road and will be integrated with the 94ha Barry Curtis Park.
It will be located 24km away from Auckland's CBD and approximately 1.19 million people are residing within a 30-minute drive from the town centre. In addition, the location is also well-connected to bus facilities.
Ormiston Town Centre design details
The Ormiston Town Centre will feature a contemporary architectural design, which differentiates it from the traditional closed-in suburban malls or big box retail developments.
Its gross building area will be 40,000m², covering 100 retail and commercial tenants, a three-level parking facility, a warehouse, a HOYTS movie complex, the current PAK'nSAVE supermarket, and a new supermarket.
The town centre will house commercial, fitness, retail, mixed-use, and food and drinks spaces. Ormiston Town Medical Facility will also be built as part of the project.
The town centre will be integrated with the urban landscape through streets, alleyways, and public open spaces. It will also include a dining lane, a quality food hall, a restaurant precinct, and a cinema entertainment complex with eight screens.
Structures of the town centre will have large roofs with wide setting, bold symmetry, and contemporary design. The centre's exterior design will allow more natural light into the complex and will also feature greenery.
The internal laneways of the town centre will feature a picturesque setting in order to identify independent shops, boutiques, and eateries.
Other facilities at Ormiston Town Centre
The complex will feature a $27m aquatic centre on Ormiston road between Pencaitland Drive and Park Edge road. It will include a lap pool, leisure pool, toddlers' pool, spa, sauna and steam room, water play, and fitness centre.
The site will have dedicated space for housing, including terraced houses and duplexes with three bedrooms.
A 6,000m² Pak 'n Save supermarket was opened at the site in November 2015, as part of the first stage of the project. It created 130 new jobs in the community. An additional supermarket is being planned to offer more convenience to the people in the vicinity.
Dining options in the complex include an Indian eatery and bar Yellow Chilli, Maki Mono, Five Star Nails, and Delish Lounge.
Contractors involved
Todd Property Group is responsible for designing and developing the new urban village in partnership with ACPL.
Ormiston Town Centre is being built by Scarbro Construction and Savory Construction. NH Architecture and Jasmax are the architects for the town centre, while Brewer Davidson Architecture and Studio Pacific developed the project masterplan.
Fletcher Living is responsible for building terraced houses in the town centre.