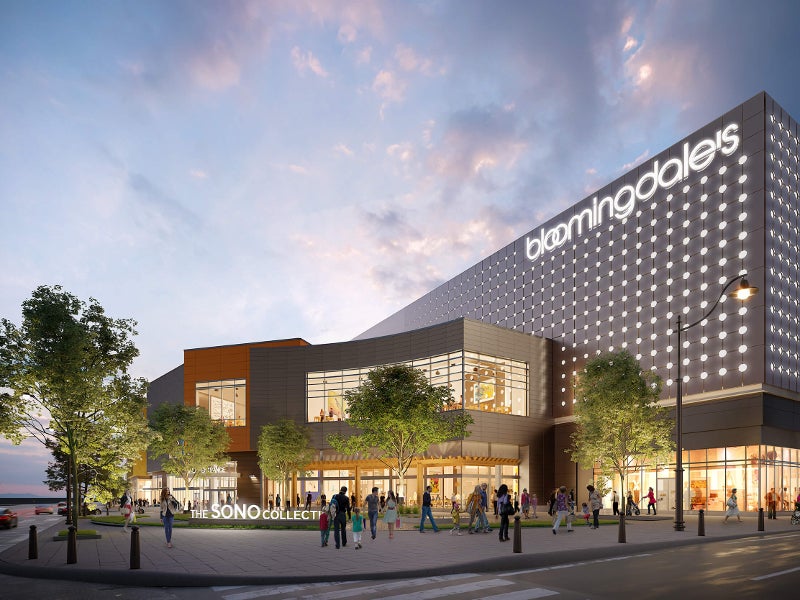 The SoNo Collection is a shopping mall being developed in Connecticut, US. The mall is part of a mixed-use development comprising retail space, a hotel, and a public realm space.
Brookfield Properties is developing the mall and will also own and operate it upon completion.
The mall is being developed with a $525m investment and will create 1,900 construction jobs and 2,500 permanent jobs.
Construction on the project was started in October 2017 and is expected to take 30 months for completion.
The mall is expected to be opened in late 2019.
The SoNo Collection location
The SoNo Collection will be situated on 100 N Water Street in South Norwalk, Connecticut.
The mall will be located at the intersection of I-95 and Highway 7 and will be accessible from Fairfield County. Its close proximity to Metro-North New Haven Line's South Norwalk station will provide easy accessibility to the nearby population.
It will be strategically located with 39 hotels within a distance of 24km. The site is also accessible from Danbury and Stamford via US-7S and I-95N, respectively.
The location was selected based on extensive demographic research to cater to the nearby communities.
The SoNo Collection details
The SoNo Collection will span across 700,000ft² and feature two storeys. The built-up area will be 2.5 million square feet.
The shopping centre will feature the region's first Bloomingdale's and the first Nordstrom occupying more than 300,000ft².
The Nordstrom store will be a three-level, 140,000ft² outlet featuring cosmetic and accessories areas, along with apparel and four shoe departments.
Smaller retailers will occupy an area of 350,000ft² featuring between 80 and 100 shops while 6% of the gross leasable area will be dedicated for food and beverage outlets.
Approximately 87,000ft² will be utilised for public space such as gardens, exterior plazas, enhanced streetscapes and interior courts while 180,000ft² will be used for a common public area. The centre will include a rooftop terrace and courtyards for leisure space.
A circulator trolley system for transporting visitors around the corridor will be developed in association with Norwalk's Transportation District.
The project will include the construction of an eight-storey parking structure spreading across 1.2 million square feet.
Benefits of The SoNo Collection
The SoNo Collection aims to establish Southern Norwalk as a cultural and entertainment destination by attracting visitors to boost existing businesses and attractions in the region.
The project will also connect to Wall Street via West Avenue, which is expected to encourage the people to visit the area. It will also redevelop the gateway to Norwalk.
It will generate new real estate tax revenues of $2.5m for the City of Norwalk in over seven years.
Other developments benefitting the surrounding areas include activated streetscape, improvements to landscape and pedestrian areas on North Water Street and West Ave, upgrades to bicycle tracks around the site and in Matthews Park, and enhanced signage surrounding the site.
Contractors involved
HR&A Advisors provided advisory services for the project while JAA Consulting provided consultancy services.
RTKL Associates were contracted for architectural services while Langan was contracted for multi-discipline engineering services.
Silver Creative Group provided web-development and marketing services while KBE Building and its joint venture VCC is managing the project.
Carmody Torrance Sandak & Hennessey provided legal services. Gaffney, Bennett and Associates and its public relations branch were responsible for supplying legal and public relations services.
Bay Crane and HESCO supplied and inspected the construction equipment.