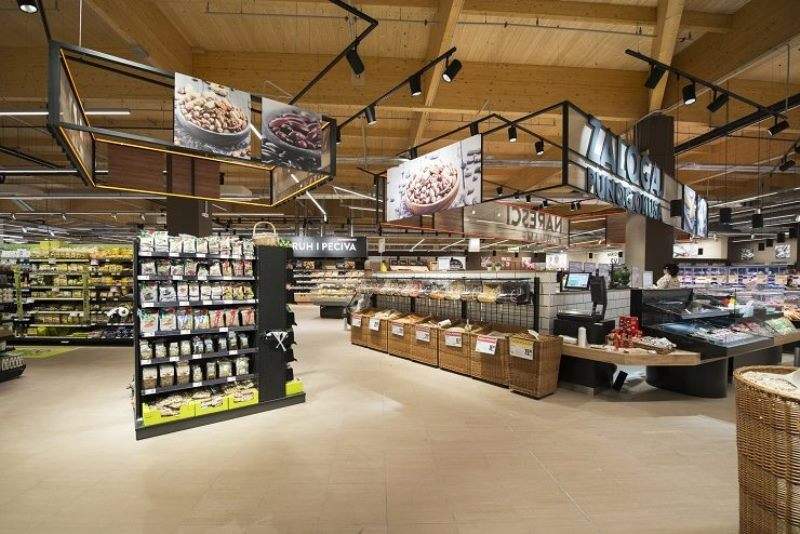 Spar Croatia expanded its business by opening a new InterSpar Hypermarket, established with an investment of €23m, in Rijeka.
Located in a 4,000m² of space, the hypermarket will offer an extensive range of more than 30,000 products to customers.
Designed by an international architect, the retailer has spent eight months for the entire construction process of the hypermarket.
---
SoftBank confirmed that US retail major Walmart reached a final agreement to buy a majority stake in India-based online retailer Flipkart for $15bn.
Japan-based SoftBank holds 20.8% stake in Flipkart.
SoftBank CEO Masayoshi Son was quoted by news agency AFP as saying: "Last night, (they) reached a final agreement and it was decided that Flipkart will be sold to America's Walmart."
---
Online retail group Alibaba acquired the entire stake in Pakistan-based e-commerce platform Daraz Group from Rocket Internet for an undisclosed amount.
Established in 2012, Daraz operates online marketplaces in Pakistan, Bangladesh, Myanmar, Sri Lanka, and Nepal. The platform offers two million products under 500 brands from 30,000 sellers and serves five million customers.
Products offered by the company in various categories include consumer electronics, household goods, beauty, fashion, sports equipment and groceries.
---
Forevermark, a luxury retail brand of De Beers Group, unveiled a flagship store concept, Libert'aime by Forevermark, in Shanghai, China.
Located at HKRI Taikoo Hui, the store marks the 1,000th Forevermark location for the company in China.
Libert'aime concept is designed with a focus on 420 million millennials in China through an omnichannel model and offers an assortment of diamond jewellery.
---
A&G Realty Partners has been retained to sell 230 owned and leased assets of The Bon-Ton Stores, on behalf of a joint venture group, including Great American Group LLC, Tiger Capital Group, and Bon-Ton's Second Lien Noteholders.
Last month, the joint venture acquired the assets from the retailer through a bid submitted to the US Bankruptcy Court for the District of Delaware.
The 230 assets under the sale process include 22 fee-owned properties, seven ground leases and 194 leased locations.
---
Food and pharmaceutical retailer Metro has completed the previously announced acquisition of Canadian pharmacy retailing firm, The Jean Coutu Group, in a deal valued at $4.5bn.
With the acquisition, which was initially announced in October last year, Jean Coutu Group becomes a wholly owned subsidiary of Metro, merging all its pharmacy operations.
The transaction now forms a new $16bn merged entity combining pharmaceutical retail stores of both the companies in the country.
---
US-based department store chain Lord and Taylor partnered with Walmart to launch its online fashion store on Walmart's website.
The flagship store will expand Walmart's everyday fashion portfolio and will run alongside each Premium Brand page.
Walmart currently operates two types of fashion stores, Everyday Brands and Premium Brands, on its website.
---
UK high street retailer Marks & Spencer is planning to shut more than 100 stores by 2022.
The company has taken this decision as part of its UK store estate programme, under which it plans to take at least a third of sales online and reshape its clothing and home space.
Of the total 100 proposed stores, the retailer has closed 21 stores and proposed to close 14 clothing and home stores during 2018-19.
---
UK-based grocery chain Tesco is set to cease the business operations of its loss-making Tesco Direct.
Tesco has taken the decision to create a simpler online experience by offering all the products in one place, including general merchandise, clothing and groceries.
Tesco Direct is a non-food e-commerce business, which sells a range of general merchandise such as technology, homeware, clothing and toys.
---
Retail software company Jisp unveiled a new shopping solution, 'Tap and Go' for retailers in the UK.
Tap and Go is a shopping application designed for retail stores to sell groceries, pharmaceuticals and gifts. It is suitable for supermarkets and other fast-moving consumer goods (FMCG) retailers.
To use the service, customers need to download the application on their mobile phones and scan a sticker on the shelf while selecting a product.