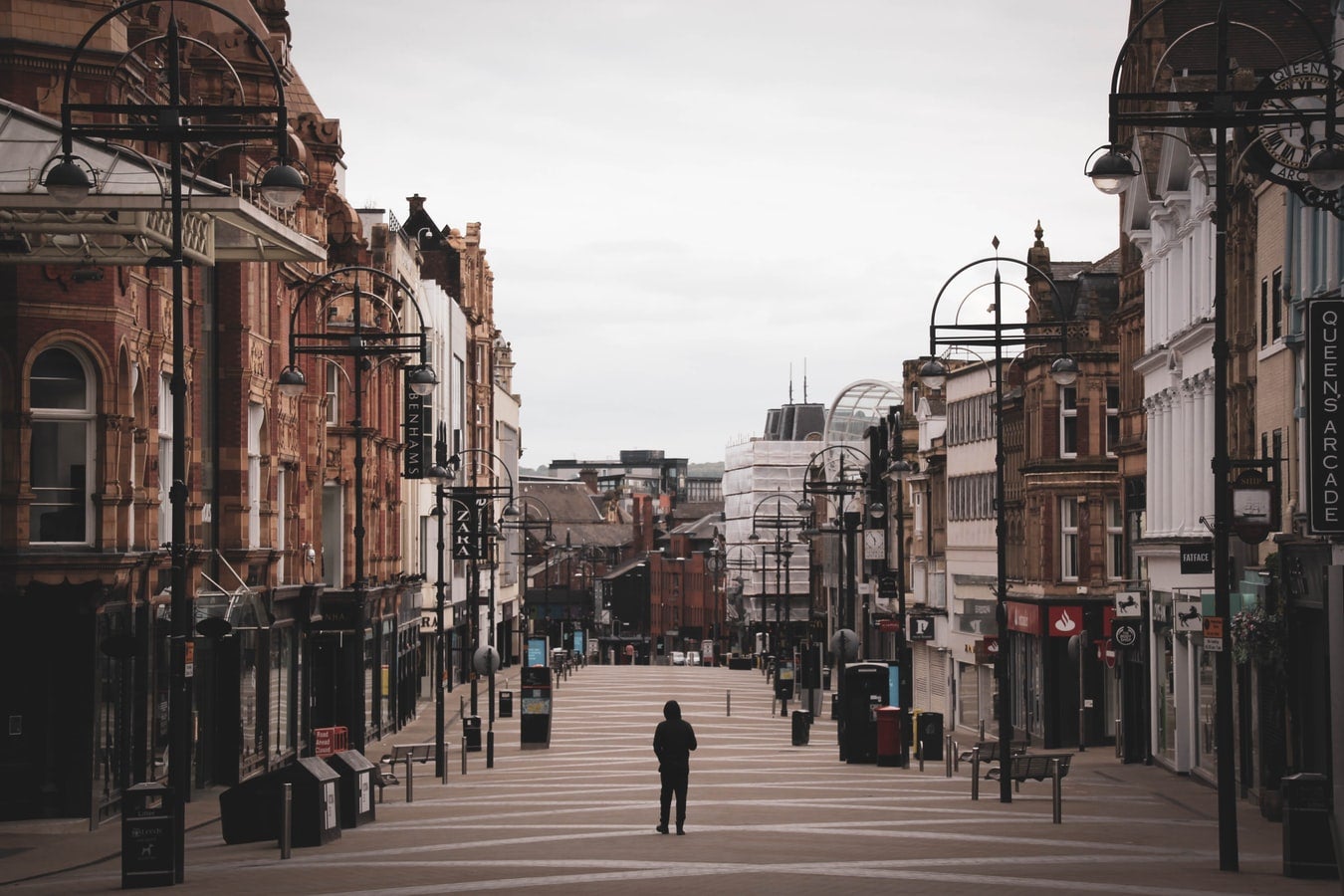 UK high-street footfall decreased by 34.8% in August and retailers are struggling as September's quarter rent approaches, according to figures from the British Retail Consortium (BRC).
According to the BRC, however, September is likely to see more job losses in the retail sector, as high-street retailers are seeing low footfall with the quarter rent payment date coming at the end of the month.
Figures from the BRC-ShopperTrak data for August showed that high-street footfall has declined by 47.7% year on year, making it "the worst-performing location in August and falling below Shopping Centres for the first time since April 2018."
Though still below the longer-term 12-month average decline of 27.6%, overall footfall in August improved by 7.3% from July's figures.
Sales figures were also up year on year by around 4%, however, this can be attributed to digital spending, particularly from retailers that sell clothes and beauty products.
Though still low, footfall improved towards the end of August
ShopperTrak EMEA Andy Sumpter said: "Footfall in the UK continued to improve throughout August, with a marked upturn in the final week. This can in part be attributed to the last days of the 'Eat Out to Help Out' campaign, and back to school shopping. Retail parks continued to lead the way for recovery, with shopping centres catching up, while high streets are still lagging. With many people still working from home, high streets in many major cities desperately await the return of tourist and office commuter footfall.
"August also saw the UK recovery climb to second amongst its European peers, behind France. Whilst this is encouraging to see, retailers are dealing with traffic levels that are still around a third lower than the same time last year. As retailers prepare to ramp up stock and promotions for the 'golden quarter', this will be a defining period for many retail businesses."
Low footfall could be attributed to remote working
According to BRC CEO Helen Dickinson OBE, the low footfall could in part be attributed to consumers still working from home amid the Covid-19 coronavirus pandemic and avoiding public transport into city centres.
Dickinson said: "Footfall remained well below normal levels in August. In-store discounting and demand for school wear helped lure some customers back to the shops, but with many office blocks still empty and much of the public avoiding public transport, footfall is not returning to towns and city centres and this is having a devastating effect on the local economies in these areas.
"While many businesses have been investing in making workplaces safer, we are unlikely to see significant growth in footfall while government advice remains to 'work from home if you can.' Unless this changes, more should be done to encourage people to travel and reassure them that public transport is safe."
Dickinson also noted that, with the September quarter payment approaching, many retailers are "hanging on by a thread". She said: "Government should also recognise that, while footfall is so low, many businesses will not be able to manage their fixed costs – rent and business rates in particular – and unnecessary job losses and store closures will follow."
In-store sales struggle as online shopping thrives
Figures showed that, despite shops reopening in June, online shopping is continuing to boom. In-store non-food items sales were around 18% lower in the three months to August than in 2019. Last month, online non-food sales were 42.4% higher than they were a year ago.
Software company Bloomreach UK MD Michael Schirrmacher told Retail Insight Network: "Once again, we see that in-store sales are struggling to climb back to pre-pandemic levels. While this is unfortunate for the industry, we can attribute it to the fact Britons have become used to a high level of comfort and convenience when shopping online during the height of the pandemic – a behaviour that is now entrenched in the way we buy both essential and non-essential products.
"It's no secret the retail industry has been under stress during the lockdown and it needs solutions that cater to the new needs of shoppers if it is to endure. Right now, this means convenience and safety, two things that e-commerce provides in spades."
"This shift in consumer behaviour is impacting traditional retail, with more emphasis put on digital skills, merchandising and delivery. This is an opportunity for the sector to fully embrace a digital-first mindset that responds to the new consumer need for speedy, yet convenient commerce. The message to the industry is clear: investing in online shopping channels is no longer an add-on to a strong high street presence – it's a lifeline for the future of commerce."