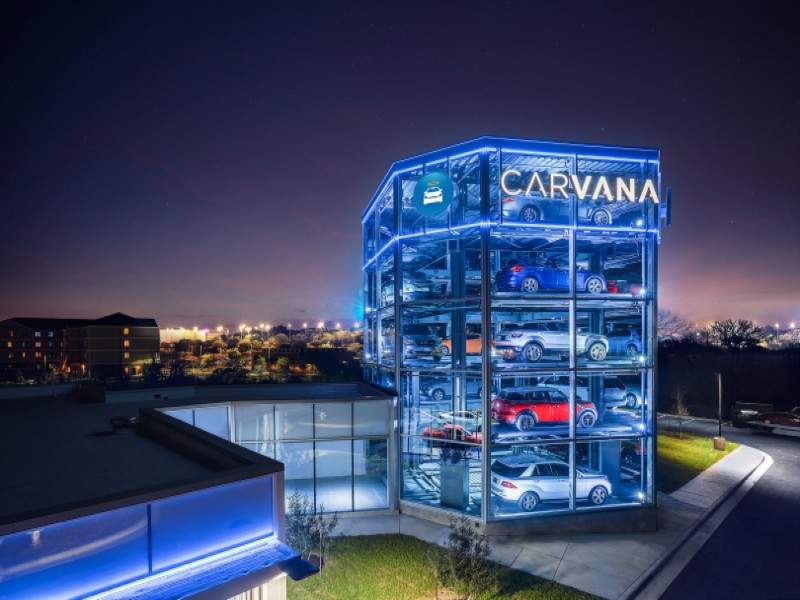 According to mobile engagement company Urban Airship's managing director EMEA/APAC Nigel Arthur, retailers are forgetting that in-store experience should be an experience.
"In-store footfall figures are succumbing to digital shopping and the retailers who are going to really thrive are the ones ready to push the boundaries in their stores and in digital to attract customers back to the high street," says Arthur.
Innovative retail concepts:
So which innovative retail concepts have we seen so far in 2018? Here are a just a few turning heads on the high street and elsewhere.
Smart mirrors
In June, H&M started trialling a smart mirror in its Times Square, New York flagship store that suggests outfits for customers. Developed by Microsoft and Swedish digital agencies Visual Art and Ombori, the smart mirror combines voice and facial recognition. Customers can use voice commands to, for example, take selfies that are virtually integrated with the H&M catalogue, and the mirror provides customers with various outfit suggestions that can be ordered directly from the online shop using a QR code.
Clothing retailer Zara has taken a slightly different approach at its flagship store in London. Zara's smart mirror doesn't rely on voice control but recognises selected items picked by customers and creates a virtual outfit from them.
Meanwhile, Mastercard has developed a digital smart mirror that enables customers to beat the queues and pay for goods from the privacy of the changing room. Mastercard's interactive touch-screen OAK mirror allows shoppers to change lighting or language, view and request different sizes and colours, and ask for specific items to be brought to the room via a 'request button' on the mirror. It can be synchronised with a store's clothing catalogue and inventory system to offer intelligent product recommendations around the shopper's choice.  The digital mirror is currently used in selected retailers in the US, including Levis, and the company says it is set to arrive in the UK 'soon'.
Car vending machines
In March, Alibaba unveiled its 'Super Test-Drive Center' in Guangzhou, China with over 100 Ford cars available for Chinese customers to select from a giant 'vending machine'.
By signing up to the Tmall or Taobao mobile app, customers were able to pick up the selected car from the unmanned dispenser for a free three-day test drive to provide them with a full experience of the vehicle before buying.
In the US, Carvana provides a car vending machine service backed up by a website which features high-resolution photographs, complete with 360-degree virtual tours of vehicles. After choosing a vehicle, customers can obtain a financial loan, do a trade-in, sign the contracts and schedule a delivery or pick up at one of the vending machines. Buyers are given a seven-day test period, and, if they are dissatisfied, they can return the vehicle for a refund.
Checkout-free stores
In January, Amazon became the first retailer to open a checkout-free supermarket, where customers can buy groceries with no human or self-service interaction. Amazon Go provides customers with a unique 'Just Walk Out' shopping experience, which uses computer vision, learning algorithms and sensors to allow the retailer to see what people have chosen and charge their accounts accordingly.
Before entering the store, shoppers must install the Amazon Go smartphone app. Sensors on the shelves then add items to the bill as customers pick them up and delete any they put back. When the shopper leaves the store, the items are calculated, the associated card is charged and a copy of the bill is sent to the customer.
In June, Tesco announced a trial of a checkout-free Scan Pay Go app. Unlike Amazon Go, Tesco's concept requires customers to scan their groceries and then pay using their smartphones before leaving the store without needing to use a checkout. The trial of the Scan Pay Go app is currently underway with 100 of Tesco's Welwyn Garden City headquarters staff via a purpose-built Express convenience store on the site.
Sports retailer JD.com has also launched its first cashier-free store in Indonesia. It requires customers to swipe with their phone to enter the store so a QR code can confirm the user's identity. Cameras and facial recognition technology allow the store to track users in store, while radio-frequency identification (RFID) tracks which product the user has picked up and taken outside of the store to purchase.
Walmart has also jumped on the checkout-free store concept by teaming up with Microsoft on a five-year deal to explore using the company's Cloud computing service Azure, as well as other Microsoft AI and machine learning projects in stores.
Omnichannel
Providing a shopping experience where online and offline channels merge seamlessly, especially for mobile customers has grown increasingly popular this year.
UK fashion retailer Oasis focuses on its e-commerce site, mobile app, and brick-and-mortar stores into a simple shopping experience. Customers walking into one of the Oasis stores can find sales associates with iPads that are available to give them on-the-spot, accurate, and up-to-date product information. The iPad also acts as a cash register. Staff can also use the iPads to place an online order for products that are out of stock, to be shipped directly to customers home.
In March, Walmart opened its first omnichannel store in Mexico, which offers customers the opportunity to buy products in a variety of ways. The shop, located in Tlalnepantla, features a drive-through where online purchases can be picked up, free Wi-Fi internet, self-checkout machines and digital catalogues that customers can browse through and use to order products that are not in stock.
Abercrombie & Fitch plans to open smaller footprint stores near two major college campuses in the US with an omnichannel focus to serve as test beds for future expansion. The stores will feature options like buy online, pick up in store, order in store and ship from store.
Store-within-a-store
Toms, the US footwear retailer, has transformed some of its shoe stores into coffee shops that also sell shoes. Customers can order drinks in the coffee shop area and sit down in a garden area with free Wi-Fi in-between shopping for shoes.
Fitness apparel retailer Bandier has created a store that partly looks like a gym and also features a health-focused café. Customers visiting the store can try out the latest running gear on treadmills, take a shower and put on moisturising facemasks. The retailer aims to create a fun space that attracts a stylish fitness-mad crowd.
UK clothing retailer Next has signed a deal with the US online car dealer Rockar to give people a chance to shop for clothes and a new car within the same store. As part of the partnership, Next transforms excess space within its stores into a Rockar-style, digital-experience car dealership. The first collaboration between Rockar and Next took place in Manchester Arndale Centre.
Try before you buy
Clothing retailers like ASOS, Miss Selfridge, JD, Topshop, Schuh and Skinny Dip are just a few of the shops that have implemented digital payment specialist Klarna's 'try before you buy' service. The service allows consumers to order whatever they want from the website and only pay for the things they decide to keep. The service has reportedly increased ASOS's UK sales by 23% in the first four months after implementing the service.
A report by global market research company Mintel found that one in five consumers now buy fashion items from ASOS, while more than a third of all clothing shoppers would like the option to order clothes online but only pay once they decide to keep them, rising to half of the young people aged 16-24.
Amazon has also introduced a 'try before you buy' shopping service, called Prime Wardrobe, available to all Prime members. The service allows customers to pack a box with items, try on the clothing at home, and then send back what they don't like before being charged for what they keep.
Augmented Reality and gaming
Singular commerce platform Aptos' vice-president of retail innovation Nikki Baird believes that in order to engage customers, brick-and-mortar retailers have to use technology differently to create engaging experiences.  According to Baird, Augmented Reality (AR) is a good example of that.
She said: "Retailers have deployed AR games in stores to encourage shoppers to explore product categories they haven't typically shopped – customers activate new games or potentially new features of a smartphone game by scanning tags of different products."
US-based retail company Walmart launched an AR game with new Jurassic World film, which works similarly to Pokémon GO. The game allows customers in selected stores to access supply depots for catching and tagging AR dinosaurs that can't be accessed elsewhere.
Danish family-owned toy manufacturer Lego also uses AR to let customers visualise what their products will look like when assembled through the Lego Digital Box kiosk, which shows a pseudo-3D image. Customers only need to take a Lego box and hold it in front of the kiosk to instantly see the products displayed on the kiosk monitor.
IKEA, on the other hand, launched an AR catalogue that lets customers use a smartphone or tablet to see how a piece of furniture would look in their home before buying. Customers can check out products with IKEA Place, which uses Apple's AR platform ARKit, and view 3D renderings of over 2,000 products.