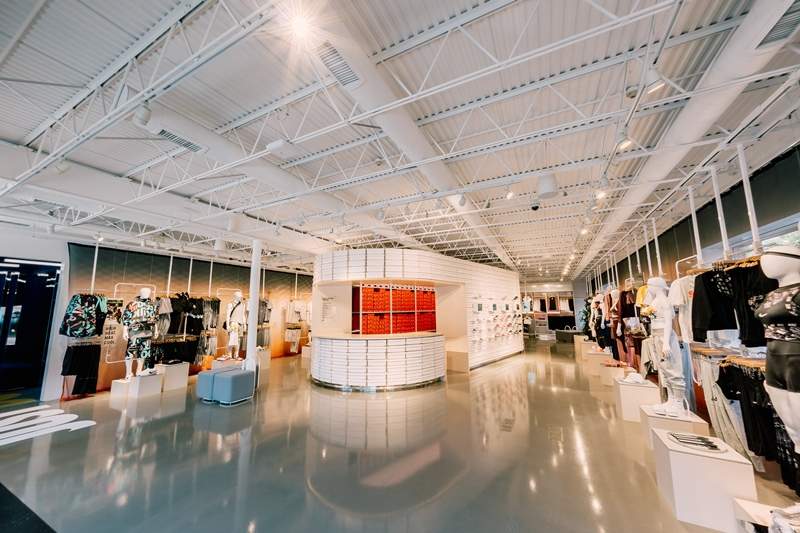 US-based lifestyle retailer Guess and retail major Alibaba Group partnered to introduce FashionAI concept store to provide a better retail experience for shoppers.
The pilot FashionAI concept store, which was launched at the Hong Kong Polytechnic University (PolyU) campus, is part of efforts to assist retail brands to use analytics in ordering and maintaining inventory.
The store concept integrates the latest collections from Guess with advanced Alibaba AI and other technologies to offer a new retail experience for shoppers, as well as assist brands in ordering and inventory management through analytics.
---
Global retail major Walmart signed a strategic partnership with technology firm Microsoft to assist the retailer in various business growth initiatives.
These initiatives include digital transformation in retail and empower Walmart's associates globally. They provide enhanced shopping experiences through faster and easier ways.
As part the deal, Microsoft will also act as a preferred and strategic cloud provider for the retailer by offering its full range of cloud solutions.
---
Private equity fund Samara Capital agreed to purchase food and grocery retail chain More stores in India.
The $625.86m deal with Aditya Birla Retail (ABRL) is expected to be closed by September.
In May, both companies were engaged in talks and Samara Capital commenced its due diligence for the transaction, reported The Economic Times.
---
Panasonic Corporation of North America, in collaboration with food safety and quality consulting services firm Hussmann, launched an IoT solution, LastMile Hub, to address refrigerated grocery last-mile delivery challenges.
The company has launched pilot programmes for the new technology in North America and globally to fulfil customer delivery needs, as well as reduce operational costs for food retailers.
Panasonic food distribution managing officer Dohno said: "We're very proud of our new IoT solution to help food retailers with their last mile challenges.
---
US-based retail holdings company Walgreens Boots Alliance completed the acquisition of a 40% minority stake in China-based retail pharmacy chain Sinopharm Holding GuoDa Drugstores (GuoDa) for $416m.
The deal was signed with China National Accord Medicines, the parent company of GuoDa, in December, and Walgreens Boots Alliance would account for the stake as an equity method investment.
GuoDa currently operates more than 3,800 retail pharmacies in 70 cities across 19 provinces and other regions in China. It employs around 20,000 people to serve customers.
---
India-based online retailer Flipkart is reportedly set to close all customer transactions on eBay.in from 14 August.
The retailer also revealed plans to launch a refurbished goods platform and will handle a different target audience, reported The Times of India.
The company plans to launch the platform next month, however, it will only open for transactions after six months.
---
Sports lifestyle major Nike unveiled its new Nike Live store concept as part of efforts to combine digital and physical shopping experiences for its consumers.
Under the concept, the first destination dubbed as Nike by Melrose opened at 8552 Melrose Ave in Los Angeles, California.
The 4,557ft² concept store is designed using NikePlus member insights and engagement based on their activity and buying patterns.
---
Grocery store company United Natural Foods (UNFI) entered a definitive agreement to acquire US-based supermarket chain Supervalu for approximately $2.9bn.
Under the agreement, the deal value includes $32.50 per share in cash and includes the assumption of outstanding debt and liabilities.
The acquisition will expand UNFI's customer base and presence across various channels where the company is under-represented, as well as areas with demand for its 'better for you' products.
---
UK retailer Marks & Spencer (M&S) partnered with venture capital firm Founders Factory to establish a new joint venture (JV), Founders Factory Retail, to invest in start-ups.
M&S will hold a majority share within the JV, which will build a portfolio of investments in emerging start-ups.
This partnership complements the retailer's ongoing digital transformation efforts.
---
US-based footwear holding company StreetTrend signed a joint venture agreement with Italy-based investment firm Panda to purchase a majority interest in luxury sneaker and footwear retail brand P448.
The deal covers all creative design, manufacturing operations and brand assets of the footwear brand in Forli.
Following the acquisition, P448 founders Marco Simone and Andrea Curtis will maintain an equity stake and continue to operate the business.