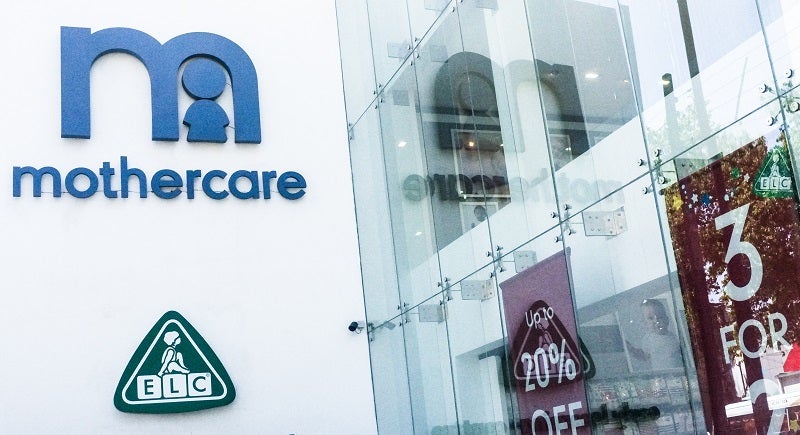 UK pregnancy and childcare product retailer Mothercare has fallen into administration, putting 2,500 jobs at risk.
Announced via the company's restructuring update, Mothercare said its aim for this financial year was to progress the next phase of its transformation. This includes securing a financial structure for the Mothercare Group and to 'evolve, adapt and optimise the structure, format and model' for its UK operations.
The news follows Mothercare's fall in sales, store closures, jobs cuts and the sale of Early Learning Centre.
In its restructuring update, Mothercare said: "Since May 2018, we have undertaken a root and branch review of the Group and Mothercare UK within it, including a number of discussions over the summer with potential partners regarding our UK Retail business.
"Through this process, it has become clear that the UK Retail operations of the Group, which today includes 79 stores, are not capable of returning to a level of structural profitability and returns that are sustainable for the Group as it currently stands and/or attractive enough for a third party partner to operate on an arm's length basis. Furthermore, the Company is unable to continue to satisfy the ongoing cash needs of Mothercare UK.
"These notices of intent to appoint administrators in respect of Mothercare UK and mbs are a necessary step in the restructuring and refinancing of the Group. Plans are well advanced and being finalised for execution imminently.  A further announcement will be made in due course."
Product price tracker company Alertr co-founder Andy Barr said: "Mothercare is one of the biggest baby goods retailers in the UK and it is truly a shame to hear such news. But sadly it comes as no real surprise, with so many huge names, brands and retailers having come to an end this year.
"As people turn to online shopping and shop around for cheaper products, and with Mothercare being on the higher end price spectrum, you can see why this is now happening."
GlobalData lead retail analyst Sofie Willmott said: "Mothercare's fall into administration comes as no surprise following its Company Voluntary Arrangement (CVA) in 2018, profit warning in July this year and its prolonged poor UK performance.
"The retailer has failed to stand out as a specialist destination, with new parents turning to competitors that offer a better proposition either in terms of low prices, convenience or service, such as Amazon and John Lewis.
"Its strategy to cull store numbers in recent years and transfer sales online has proved unsuccessful, with digital sales declining as its online offer failed to encourage purchases."
Call in the administrators: Online retail weakens UK high street
In recent years, the UK high street has experienced an exodus of shoppers redirecting their spend to online shopping platforms. This change has led to an influx of CVAs, store closures and rescues, and declining footfall.
Barr added: "Not only do consumers find it easier to shop online rather than in-store, saving time, money and fuel, they also have the ability to shop around – whether to find the best deal or to utilise discount codes. And there are usually deals and offers in order to get free delivery.
"The future of the high street is so up in the air at the moment and it doesn't look as though 2020 is going to be any different to what we've witnessed in 2019."