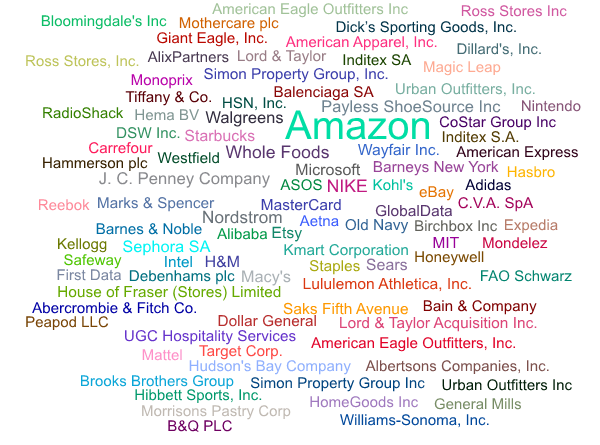 Top ten most influential companies in retail: Who to watch 2019
Here is a round-up of the top ten most influential companies in retail and their key Twitter information, provided by GlobalData's Retail Tech Influencer Network.
1) Amazon
US multinational Amazon is an e-commerce, Cloud computing and artificial intelligence company headquartered in Seattle, Washington. Considered one of the 'Big Four' technology companies, it was founded in 1994 by Jeff Bezos and is the largest e-commerce marketplace and cloud computing platform in the world, measured by market capitalisation and revenue.
Amazon also recently expanded its grocery delivery service from Whole Food Market to 13 metros in the US.
Twitter: @amazon
Twitter Followers: 2.99M
In celebration of 30 years of the web, we're looking back at our first homepage from 1995 when https://t.co/RvjXmU0HLY opened its virtual doors. We're honored to be part of the @webfoundation's 30-year story of the web. See all of the milestones at #Web30 #ForTheWeb pic.twitter.com/PanZ4l9f7k

— Amazon (@amazon) March 12, 2019
2) Nike
US multinational corporation NIKE designs, develops, manufactures, markets and sells footwear, activewear, equipment and accessories worldwide. Headquartered in Washington County, Oregon, the company was founded in 1964 by Bill Bowerman and Phil Knight.
Nike opened a new Nike NYC House of Innovation concept store last year. The store is powered by digital commerce data and inspired by the company's Nike Live concept.
Twitter: @Nike
Twitter Followers: 7.79M
Having a dream won't change the world. Sharing one will. #justdoit pic.twitter.com/vIw16Y4e3Q

— Nike (@Nike) May 12, 2019
3) Whole Foods
Whole Foods Market is a US supermarket chain that sells products free from artificial flavours, colours, preservatives, sweeteners and hydrogenated fats. Founded in 1980, in Austin, Texas, the retailer is the only USDA Certified Organic grocer in the US.
Whole Foods Market launched a digital product catalogue on its website to assist customers in choosing products suitable to their dietary preferences in January this year.
Twitter: @WholeFoods
Twitter Followers: 4.46M
Introducing … New. Lower. Prices. Explore produce and so much more at https://t.co/ZeQr1TxUfn. pic.twitter.com/D3FAvgn0Wu

— Whole Foods Market (@WholeFoods) April 3, 2019
 4) Nordstrom
Nordstrom is a US luxury department store chain. Headquartered in Seattle, Washington, it also operates in Canada and Puerto Rico. Nordstrom opened two no-inventory stores in Los Angeles and New York in a bid to become more service-orientated last year.
Twitter: @Nordstrom
Twitter Followers: 748K
New Concepts 003 is open! A collab with Japanese publishing house https://t.co/8fT3PCi9MA, it features a curated selection of iconic vintage apparel from early collections of Helmut Lang and Raf Simons. Shop now thru 6/2 at #NordstromVan, #NordstromSeattle, #NordstromNYC. pic.twitter.com/Y0lQN9rxUg

— Nordstrom (@Nordstrom) May 9, 2019
5) J.C. Penney Company
With 864 locations in 49 US states and Puerto Rico, American department store chain J.C. Penny offers everyday merchandise and houses several leased departments, such as Sephora, auto centres, optical centres, and jewellery repairs. In March, the retailer announced plans to close 27 stores due to the store's low sales performance.
Twitter: @jcpenney
Twitter Followers: 456K
Get ready! Here's how to take any dress from day to night or work to weekend ✔️ https://t.co/uyKco9DevT pic.twitter.com/9nzrhT1jSH

— JCPenney (@jcpenney) April 8, 2019
6) Walgreens
Operating as the second-largest pharmacy store chain in the US, Walgreens specialises in filling prescriptions, health and wellness information and products, and photography services. In January, Walgreens started using Zebra Technologies' enterprise-class handheld mobile computers and tablets to improve in-store operations and enhance customer experience. In the same month, the retailer agreed to acquire 63 pharmacy stores from US-based retail chain Shopko.
Twitter: @Walgreens
Twitter Followers: 883K
Tell them how much they mean to you. Create personalized photo gifts for your favorite teacher with free Same Day Pickup. #TeacherAppreciationDay https://t.co/nJzvNgOeDt pic.twitter.com/EdMjCGmHpF

— Walgreens (@Walgreens) May 7, 2019
7) Payless ShoeSource Inc
US discount footwear retailer Payless ShoeSource was established in 1956. Headquartered in Topeka, Kansas, the retailer most recently received approval from its board of directors to seek court approval of up to $25m in debtor-in-possession (DIP) financing.
Twitter: @PaylessInsider
Twitter Followers: 30.9K
Buy one pair of your faves, get the 2nd item half off! https://t.co/3wIriXa6KL pic.twitter.com/szrFdGXZRt

— Payless ShoeSource (@PaylessInsider) February 12, 2019
8) Sephora
France-headquartered multinational personal care and beauty chain Sephora stocks nearly 300 brands as well as its own private label. Offering beauty products such as skincare, fragrances and cosmetics, Sephora was founded by Dominique Mandonnaud in 1969. In March the retailer announced plans to open 35 new locations across the US in 2019.
Twitter: @Sephora
Twitter Followers: 2.4M
Curious about full-spectrum CBD skincare, but not sure where to start?
We've curated these to make things easier for you 🌈 🌿 #CleanAtSephora https://t.co/CVw2SWvajB pic.twitter.com/b2m7vQezNB

— Sephora (@Sephora) April 19, 2019
9) Macy's
American department store chain MACY's was founded in 1858, with the retailer becoming a division of Cincinnati-based Federated Department Stores in 1994. Macy's sells the latest women's and men's fashions, including clothing, accessories, beauty and shoes.
Macy's announced in March it is set to launch three initiatives to enhance customer in-store and mobile experiences, with an augmented reality (AR) experience for beauty on its mobile app due later this year.
Twitter: @Macys
Twitter Followers: 939K
All month long, @makeawish is celebrating World Wish Month. We're proud to support this amazing cause for over 15 years—raising more than $122 million to help grant 14,000 wishes to kids with critical illnesses. See how we bring wishes to life together: https://t.co/0VwdHhBML3 pic.twitter.com/UFGfln1iD3

— Macy's (@Macys) April 25, 2019
10) Microsoft
Headquartered in Redmond, Washington, Microsoft is a US multinational technology company founded by Bill Gates and Paul Allen in 1975. Microsoft develops, manufactures, licenses, supports and sells computer software, personal computers, consumer electronics, and other related services. In January this year, Microsoft partnered with supermarket chain Kroger to enhance Kroger customer experience through a new connected store concept.
Twitter: @Microsoft
Twitter Followers: 8.56M
From augmented reality meetings to conversational voice assistants, learn how new announcements from #MSBuild can change the office as we know it: https://t.co/BlIAylxPjm

— Microsoft (@Microsoft) May 10, 2019
Top ten influential companies in retail: Influencers 2018 reaction
"As retail evolves and consumer expectations grow more demanding than ever, it's vital for merchants to proactively aim to keep up with how customers want to shop and ways in which they can better engage them. GlobalData's list of the top worldwide retailers reinforces this reality, with each of these merchants continuously looking ahead to how they stand out in a global, competitive marketplace.
"Whether selling online exclusively or in physical stores, one thing that remains a common trait among each of these stand-out retailers is their embrace of digital and mobile touch-points that connect them to consumers.
"Combined with marketing efforts, modern payment technologies, selling strategies that aim for retention among customers and proactive inventory planning that helps them make more precise decisions, the highlighted retailers featured here are positioned to see continued growth thanks to their use of real-time data, consumer understanding analytics and the choice to look ahead to how to constantly keep up in retail." Nicole Leinbach Reyhle, founder & publisher at Retail Minded.
"I agree that Amazon should be ranked #1 since they have changed retail more than any other company since Walmart and the Sears Catalogue. Whole Foods is obviously owned by Amazon so they are a growing player in the (mostly) US grocery store market. Walgreens has done a great job of competing with CVS and also moving on after the embarrassing Theranos scandal. And finally, Microsoft has made a miraculous recovery as a company. It has become one of the most valuable companies in the world again, thanks to a shifted business model and new leadership." Mike Schiemer, owner of Bootstrap Business.
"It's a great list of outstanding businesses; however the first two named are standouts for me but for very different reasons. It seems like no retail conversation can be held these days without mentioning Amazon. They are ubiquitous. The very mention of them thinking of entering a new sector has the incumbents scrambling for survival. To be 'Amazoned' has become a new verb. The second, Nike, is a great example of not only the growth of the direct to consumer model but the sheer imagination and bravery of Nike. Their store on 5th Avenue, New York, known as the 'House of Innovation' is a great example of a brand reinventing the store experience to brilliant effect." Andrew Busby, founder & CEO at Retail Reflections.